Is It Time to Contact a Chickenpox (Varicella) Vaccine Injury Lawyer? Everything You Need to Know
Our team at Heidari Law Group can help you file for a varicella vaccine injury claim for compensation.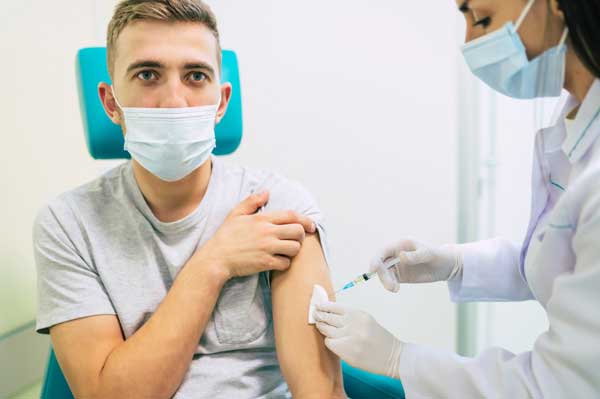 TDaP Vaccine Injury Attorney
In the 1990s, varicella, more commonly known as chickenpox, was incredibly common with an average of 4 million people getting it each year. Among elementary-aged kids born in the 1980s and 1990s, it was almost a rite of passage to get chickenpox. However, despite how common it was, it could also be deadly. Over 10,000 people were hospitalized each year and 100 to 150 people died from chickenpox.
The first chickenpox vaccine was introduced in 1995. While the vaccine is extremely effective and prevents more than 3.5 million cases of chickenpox each year, there is the potential to suffer from a chickenpox vaccine injury.
If you have experienced adverse effects after receiving the chickenpox vaccine, you might consider consulting with a vaccine injury lawyer. Read on to learn more.
The Chickenpox Vaccine
The FDA has approved two chickenpox vaccines in the US. The Varivax vaccine contains the Chickenpox virus and is administered to children over the age of 12 months. Typically, children will receive the first dose between 12 and 15 months and their second dose between 4 and 6 years of age.
The ProQuad vaccine is a combination of vaccines: measles, mumps, rubella, and varicella (chickenpox). It's often referred to as the MMRV vaccine. Like the Varivax vaccine, children get the first dose between 12 and 15 months and the second dose between 4 and 6 years of age.
Side Effects Associated with the Chickenpox Vaccine
As with any vaccine, you might have a reaction to it. Most reactions are minor, though. Common reactions include:
Shot site soreness, redness, or swelling
Swelling of the glands in the cheeks or neck
Fever
Seizures (these are more common with the MMRV vaccine than after a separate varicella vaccine)
Rash that looks like chickenpox  (this could be related to actual varicella in the vaccine and it could be spread to a person who is not vaccinated—avoid anyone with a compromised immune system, including babies until the rash goes away)
Fainting or dizziness
Chickenpox Vaccine Injuries
In some cases, more serious injuries can result. These aren't very common but can be life-threatening. Some of the more serious chickenpox vaccine injuries include:
Pneumonia
Brain swelling
Spinal cord swelling
Low platelet counts, resulting in bleeding and bruising
If you are someone with a seriously compromised immune system, you should not get the vaccine, as the MMRV vaccine could cause infections that could result in death. It's also possible that you could get shingles as an adult, but it is not very common.
There is always the potential for an allergic reaction, as well, so if your child has had any previous reactions to an earlier dose or any of the vaccine components, such as neomycin (an antibiotic) and gelatin, avoid the vaccine.

Serious Vaccine Injuries
While most vaccine injuries are minor and resolve themselves easily, there are more serious injuries that children who get vaccinated can experience.
Shoulder relative injuries related to vaccine administration (SIRVA) is a serious injury that can occur post-vaccination. The first sign is often a sharp or stabbing pain in the shoulder, usually hours or days after the vaccination. SIRVA often results in a limited range of motion, stiffness, frozen shoulder, bursitis, and tendonitis.
Aplastic anemia could also result from vaccines. Aplastic anemia is a condition that occurs when the body stops producing blood cells to meet basic bodily functions. Not enough blood cells can result in infections and uncontrolled bleeding.
Guillain-Barre Syndrome can be caused by the chickenpox vaccine, although it is much more common after the flu vaccine. Guillain-Barre Syndrome causes your immune system to attack your peripheral nervous system. This gives you the feeling of being on pins and needles and can result in severe paralysis.
It could take up to a few weeks after the vaccination to experience symptoms, but the most common time is one to two weeks post-vaccination.
Thrombocytopenia can be triggered by the chickenpox vaccine, particularly the live virus MMR vaccine. Most of the cases of thrombocytopenia start 6 weeks after the vaccination. Signs of this include:
Easy bruising
Nosebleeds
Bleeding gums
Bleeding under the skin
Heavy menstrual flow
Bleeding in the brain
What to Do If You Suspect a Vaccine Injury
If you have experienced any of the above injuries or side effects and suspect they are a result of your chickenpox vaccine, you should consult with an attorney. The National Vaccine Injury Compensation Program was created as an alternative to the traditional legal process for individuals who have experienced a vaccine injury.
The goal of this program is to provide a no-fault process, which eliminates the possibility of creating vaccine shortages while vaccine companies fight lawsuits. There are certain vaccines that are covered under this program, including the varicella vaccine.
Navigating this process can be confusing and complicated, however. This is where a chickenpox vaccine injury attorney can help you. Because you will need to file a petition with the federal government and provide medical documentation, you should have someone who fully understands the process and what to include to help you through it.
Hire a Chickenpox Vaccine Lawyer Today
If you think that you or your child has experienced a chickenpox vaccine injury, don't delay in contacting an attorney. An attorney who is experienced in handling vaccine injury cases can advise you on the appropriate course of action and help ensure that you get any compensation that you are entitled to as a result of the injury.
The attorneys at Heidari Law Group have experience with vaccine injuries and filing claims with the National Vaccine Injury Compensation Program. Contact us today for a free case evaluation.