Catastrophic Injury Lawyer
If you or a loved one have suffered catastrophic injuries after an accident, contact our top-rated California and Nevada personal injury attorneys today for a free no risk consultation.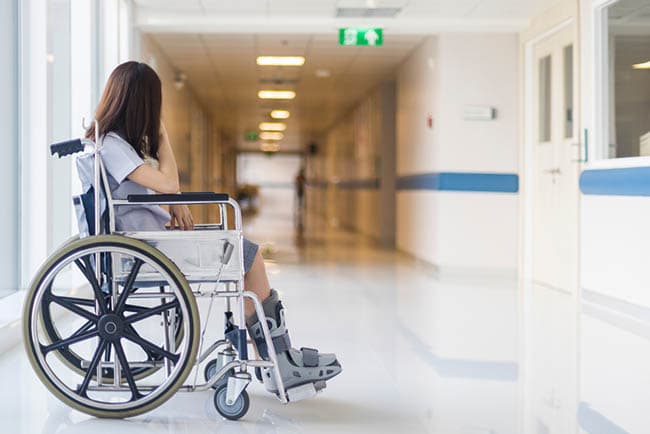 ​Our attorneys understand how stressful and difficult it could be to experience a catastrophic injury. Not only do catastrophic injuries cause severe financial burdens, they also cause emotional and mental harm to the injured victim. Our California and Nevada top-rated catastrophic injury attorneys are available to represent your claims 24/7. We are on your side to make sure you get the justice and compensation you deserve.
What is a Catastrophic Injury?
A catastrophic personal injury occurs when the victim is injured severely due to the accident caused by another third party. If you have been severely injured in an accident because of the negligence of another party, you should not have to pay for all your injuries alone. Both California and Nevada laws allow you to seek compensation from the at-fault party for any catastrophic injuries you have suffered. For more information, contact our top-rated California catastrophic injury attorneys today for a free no risk consultation. During this consultation, we will determine the type of injuries you have suffered, and who the liable parties are in your accident.
It is very important that we gather as much information as possible regarding the catastrophic injury accident to make sure that we seek maximum compensation for your injuries. Catastrophic injuries have lifelong effects on a person's life, and may even make it impossible to return back to normal life. For example, catastrophic personal injury could result in permanent disabilities. Permanent disabilities not only affect the injured victim, but also their family since there may be a need for at home care.
Examples Of Catastrophic Personal Injury Lawsuits
There are several different legal theories you may use to pursue a catastrophic personal injury lawsuit. Examples include:
Product liability lawsuits: this occurs when you have sustained a catastrophic injury due to a defective product. In product liability lawsuits, you may be able to hold the product manufacturer and products retailer liable for injuries caused by the products. There are three ways you can prove a defective product, which include defective design, defective manufacturing, and defective warranties.
Negligence lawsuits: this is one of the most common types of lawsuits in catastrophic personal injury cases in California. This requires that the plaintiff, also known as the injured victim, prove that the defendant had a duty to the plaintiff, the defendant failed to act within the standard of care, the defendant caused the plaintiff to suffer catastrophic injuries, the plaintiff now has damages they are suffering from.
Premises liability lawsuits: this occurs when you have suffered catastrophic injuries on another persons' property. Premises liability allows you to seek compensation from landowners and property operators for any injuries that have occurred on their land. The plaintiff needs to show that the landowner had a duty to keep the land in a reasonably safe condition, yet failed to do so.
What Causes Catastrophic Injuries?
Catastrophic injuries can be caused by a variety of accidents. Examples of accidents where victims sustained catastrophic injuries include:
Bus accidents
Workplace accidents
Swimming pool accidents
Hit and run accidents
Animal attacks
Bicycle accidents
Fire accidents
Defective products
Sports accidents
Battery
Assault
Could You Recover from a Catastrophic Personal Injury?
Catastrophic personal injuries are considered catastrophic and severe since it is very difficult to recover from such accidents. Catastrophic injury lawsuits usually seek several thousands of dollars in damages since the injuries lead to permanent disability. It is very rare to recover completely from a catastrophic personal injury. However, there may be different types of treatments suggested by your medical provider to decrease the amount of pain suffered.
Catastrophic Injury Examples
Damage or failure of internal organs
Fractures of the skull
Paralysis
Amputations
Paralysis
Hearing loss
Vision loss
Back injuries
broken bones
Loss or amputation of a limb
Disfigurement
Lung damage
Injuries of the spine or spinal cord
How much do our catastrophic personal injury attorneys' cost in California and / or Nevada?
 Our top-rated California catastrophic personal injury attorneys work on a contingency fee basis. This means that you do not have to pay our attorney a single dollar until we win compensation in your favor. This means that until we win a settlement or judgment, you do not owe us anything. Our attorneys will take a percentage of the amount that we recover for you. This percentage is determined based on the level of work required for your case, and is communicated to you prior to taking you on as a client.
Contingency fee agreements allow our California personal injury attorneys to pursue your claims and take on the risks associated with litigating your claim, while you focus on healing from your injuries.
What type of damages could I receive for my catastrophic personal injury lawsuit?
The damages that you can receive for your catastrophic personal injury lawsuit depend on the circumstances of the accident. Examples of damages that are available for your personal injury lawsuit include:
Medical expenses: this includes hospital stays, medication, along with physical rehab
Future medical expenses: usually since catastrophic personal injuries are severe, future medical expenses are required, especially at home care.
Past lost wages: this refers to the amount of time the injured victim took out of work to heal from their injuries
Future lost wages: this refers to the future hours the injured victim will need to heal from their injuries
Pain and suffering: these damages are non-economic damages that refer to the pain and suffering of the victim. Examples of pain and suffering include emotional distress, PTSD, humiliation, loss of quality of life.
Property damage: this refers to any property that was damaged as a result of the accident, such as the injured victim's car or house.
Punitive damages: this is awarded only in certain circumstances in California and Nevada. In order to recover punitive damages, the injured victim needs to show that the defendant engaged in malicious behavior.
How Can Our Catastrophic Personal Injury Attorneys Help You?
Our attorneys are available 24/7 via phone and email, and have offices located in every major city in California and Nevada including Las Vegas, Los Angeles, Irvine, San Francisco, Fresno, etc.
Our attorneys have decades of experience representing victims who have experienced catastrophic personal injuries in California and Nevada
Our aggressive attorneys are not afraid of taking your case to trial if both parties cannot come to a settlement agreement
Our top-rated attorneys will communicate with the insurance companies and other third parties while you focus on your injuries
Our attorneys are on your side every step of the way
Our attorneys always work to make sure that you are constantly informed regarding the updates of your case. We thrive in honest business practices.
Our attorneys will gather as much information as possible to pursue your legal claims and make sure that you receive maximum compensation for your injuries.
Speak with our successful California and Nevada catastrophic personal injury attorneys today for a free no risk consultation.  Whether you were severely injured or disabled from the accident, we are on your side every step of the way. Contact us for a free case evaluation today.