Las Vegas Attorneys
Heidari Law Group
Heidari Law Group (Las Vegas Office)
611 S 6th St
Las Vegas, NV 89101
Contact a Las Vegas Lawyer
Open 24 HOURS A DAY
7 DAYS A WEEK

Steps to Take from a Personal Injury in Las Vegas
There are steps that can be taken when you are involved in a personal injury accident. Being involved in an accident can be very disorienting and can leave you very panicked. It's important to keep calm and follow these steps so you can have the best chance of being compensated for your injuries that you may have suffered.
Get Medical Attention Right Away. This is the first and most important step if you are involved in an accident and are personally injured. This will help you build your case with official medical documentation and how severe your injuries are from the accident. This will also help prove that the accident caused these injuries.
Consult with a Personal Injury Attorney in Las Vegas. After getting a medical evaluation, the first thing that should be done is to consult with an attorney that will help you with your personal injury case. An experienced lawyer will help you prevent any actions that can lead to a dispute with your case. You should contact your attorney within the first 24-48 hours of being injured. Acquiring legal representation is an important step to the success of your personal injury case in Las Vegas.
Preserve Evidence. Videos, pictures, witnesses and contacts, vehicles involved in the accident. All of this information should be gathered right after the accident has happened. All of this information will be used as evidence and will help your personal injury case if it goes to court.
Try to Avoid Giving Insurance Companies Details. You don't want to give information about the accident to the other insurance company, as this can be used against you. Consult with your attorney first. Many insurance companies try to pay out as little as possible to claims, and in some cases nothing at all. Insurance companies will ask specific questions that can undervalue your claim, or even deny the claim. This is where your attorney will see what the insurance companies are up to with their questions and will prevent this from happening. The best way to communicate with insurance companies is through your lawyer. Also, beware of your public social media profiles. Insurance companies can use social media information about you and what you post to dispute the facts of a case. Do not post anything about your accident or injuries on social media.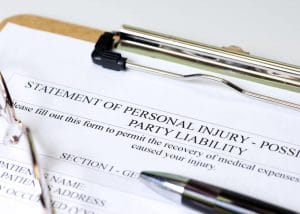 Elements Involved in a Las Vegas Personal Injury or Accident Case
Four elements must be proven to show the other party's liability in a personal injury or accident case. These are:
Duty of the Defendant
Breach of that duty
Negligent actions from the other party that directly caused the accident
Injuries to the plaintiff that is a direct result of the accident
Why Do I Need a Personal Injury Attorney in Las Vegas
After being injured in an accident, it is crucial that you have the best personal injury attorney on your side. Navigating the legal system in Las Vegas can be difficult. Our experienced personal injury lawyers can help you to recover compensation for your medical bills, past and future lost wages, as well as pain and suffering. Our attorneys are ready to listen to your situation and provide guidance on next steps. Call us today for your free consultation.
Heidari Law Group Las Vegas Practice Areas
Get Experienced Legal Help in Las Vegas with Heidari Law Group
If you're facing an injury and medical costs after an accident at the hands of another individual or party, then you need the help of a veteran team of Las Vegas lawyers to recover the damages you are owed. At Heidari Law Group, we offer free consultations, no charges until we win your case, and can get you the legal representation in Las Vegas that you deserve. Contact us today at 1-833-225-5454 or info@heidarilawgroup.com for more information.
Heidari Law Group (Las Vegas Office)
611 S 6th St
Las Vegas, NV 89101

I was injured in a car accident last year in March. The lawyer made sure that I went to all of my chiropractor sessions and that I get the medical attention needed. I also got MRI's as needed and also got back injections as needed. He was very persistent on contacting me, even when I wasn't reachable, and making sure that I got treated right and paid a good amount at the end. He is a very respectful person and great lawyer. I do recommend him and his entire friendly staff.