Elder Abuse Attorney
Get help from an experienced personal injury lawyer team that specializes in elder abuse cases.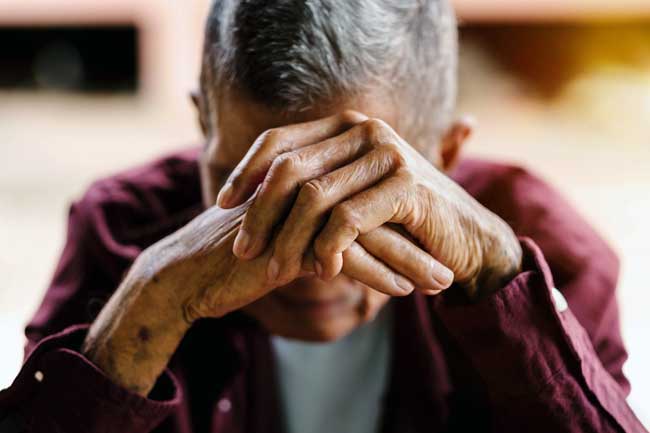 Elder Abuse Personal Injury Attorney
Our attorneys at Heidari Law are available 24/7 to make sure that you hold the responsible parties liable for elder abuse.
Elder abuse is a situation that not many of us think of, however is very common in California. Elder abuse is experienced almost every single day, and several different laws are in place to address elder abuse for seniors. Unfortunately, these rules and regulations are not followed, and may result in financial exploitation, physical abuse, or severe injuries towards the senior.
If you or a loved one has experienced any type of elder abuse, contact our top-rated elder abuse attorneys today for a free consultation. During this consultation, we will determine just what type of elder abuse you or your loved one experienced. It is important to note that there are several different types of elder abuse, that is why it is very important to recognize what type of abuse the senior is experiencing, and to address it specifically.
According to the World Health Organization:
Elder abuse is very common in the world. Around 1 in 6 people that are older than 60 years of age will experience some form of elder abuse within a year.
Elder abuse is most likely experienced in nursing home facilities where two out of three staff members asked have admitted to committing elder abuse.
Elder abuse rates have risen since Covid-19 as hospitals and medical facilities focused on Covid-19 treatments rather than look into instances of elder abuse.
Elder abuse can lead to very severe psychological consequences.
What is elder abuse?
Elder abuse refers to a single act or a repetitive act that causes the senior to experience some form of distress. The type of distress could involve:
Physical abuse: This occurs when there is direct physical contact towards the elder. Examples of physical abuse include hitting the elder or striking the elder. This type of abuse can be visibly seen and detected earlier on. Physical abuse can result in severe injuries such as broken bones and traumatic brain injury.
Sexual abuse: This occurs when the perpetrator engages in unwanted sexual contact or intercourse.
Psychological abuse: This occurs when the perpetrator uses verbal threats to manipulate the senior into thinking that they are weak and are dependent on the caregiver for everything.
Emotional abuse: This occurs when the perpetrator manipulates the elder into thinking that they are alone and they have no one to reach out to. For example, the perpetrator isolates the elder in one location and prevents them from speaking to their family members.
Financial abuse: Financial abuse occurs when a perpetrator takes advantage of the elder's finances. For example, they could steal from the elder's wallet, or manipulate them into having to turn in their bank account funds to the con artists.
Each of these circumstances are very different from one another, and can cause very different injuries depending on the type of abuse. To specifically determine what type of elder abuse your cases are dealing with, contact our top-rated elder abuse attorneys today to schedule a free consultation.
Who engages in elder abuse?
Anyone is capable of engaging in elder abuse. The most common perpetrators of elder abuse include:
Caregivers
Nurses and nursing homes
Nurses in hospice care
Nurses in hospitals
It is very important that staff that deals with elders are well-trained and experienced.
What are signs of elder abuse?
In order to correctly report elder abuse, there are specific signs that you must be on the lookout for. If you have seen anybody with the below injuries, you should report the instance of elder abuse immediately.
Bed sores
Malnutrition
STDs
Depression
Anxiety
Unexplained Bank transactions
Bruises
Unexplained broken bones
Unexplained infections
What are the consequences of elder abuse?
Elder abuse could result in:
Physical injuries: the most common being broken bones and bruising
Financial injuries: financial abuse could cause the senior to lose their finances in their bank accounts
Premature mortality: physical abuse can increase the likelihood of the senior passing away earlier on in life
Depression: all types of abuse could lead to emotional distress and depression, which may require substantial treatment.
How do you prevent elder abuse?
Although there is no specific circumstance on preventing elder abuse, there are methods that the World Health Organization encourages organizations and nursing home facilities to take.
Caregivers: caregivers must intervene if they suspect any type of elder abuse going on with an employee and the senior
Help lines: call helplines will be able to provide a safe reporting system to elders who are scared to come forward and report elder abuse
Emergency shelters: shelters will provide a place of safety to elders who have experienced any type of abuse
Mental health treatment: this is to prevent any type of emotional distress caused by the elder abuse
Criminal justice: having strong criminal charges in place will help in decreasing the amount of elder abuse experience in nursing homes
What should I do if I have seen someone experiencing elder abuse?
If you have noticed that someone within your family has fallen victim to elder abuse, we recommend that you take these steps:
Report the incident immediately. This may require an immediate report to the nursing facility or to Adult Protective Services.
Make sure that the victim is relocated to a safe place, away from the perpetrator.
Make sure that the elder receives medical treatment and a medical and psychological evaluation.
Contact a California elder abuse attorney today to see how you can file a claim to seek compensation from the at-fault party.
Who can file a lawsuit for elder abuse in California?
There are several different parties that could file an elder abuse lawsuit in California. California specifies that these parties are:
Spouses of the abuse victims
Family members who have the power of attorney
The victim themself
Heirs of the victim (this usually occurs in wrongful death cases where the victim has passed away from the abuse)
 Do I need an elder abuse attorney?
Elder abuse is very difficult to spot since there are so many different ways of abuse that can take place. Whether it is financial, physical, emotional, or psychological, it is very important that the victim get the assistance they deserve. Other than getting the medical and psychological help they deserve, the victim should also be able to hold the perpetrator financially responsible for the emotional distress they have gone through. Our top rated elder abuse attorneys are available to help vulnerable victims get the justice they deserve.
Was your loved one abused? Contact our top-rated elder abuse attorneys today.
Our elder abuse attorneys work on a contingency fee basis, which means that we do not collect any compensation upfront unless we win in your favor. We understand that elder abuse is a very difficult lawsuit to deal with, especially when trying to figure out who the perpetrator is in order to hold them liable. Our attorneys will investigate all the facts of your incident to determine who the liable parties are, then we will file the lawsuit against them in your favor.
We are available 24/7 for clients to provide individualized attention and to make sure that victims get the justice they deserve. Going through the legal process for elder abuse can seem a bit tricky, especially when gathering evidence about the abuse. Examples of evidence we collect include photographs, video surveillance, statements from witnesses, etc. For more information on your specific elder abuse claim, contact our California and Nevada attorneys today.