Burn Injury Attorneys
Call our skilled injury lawyers today to help you receive maximum compensation for your injuries.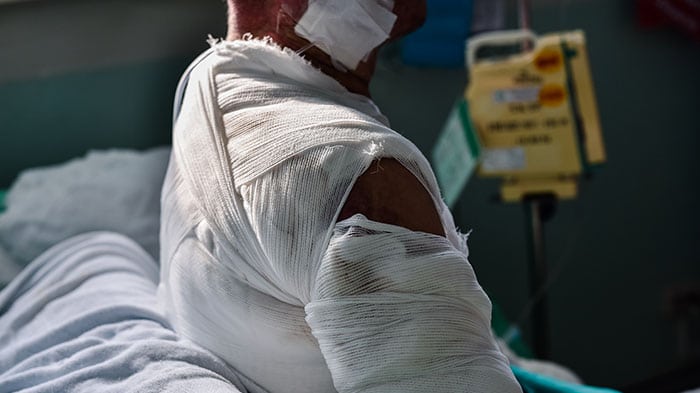 Over 1.1 million people suffer from burn injuries every year. While some injuries can be minor and heal on their own, many require hospitalization and result in months of painful recovery.
Victims who have sustained burn injuries have gone through severe trauma, hospitalization, surgery, and may need long-term care for their burns. We believe that no burn injury victim should have to suffer because of another party's negligence. Our burn injury attorneys have extensive experience representing burn injury victims for decades. We are aware of California and Nevada burn injury laws and will extensively and aggressively litigate your burn injury claims to recover monetary compensation for your medical expenses, lost wages, and emotional distress.
We have helped many clients in California and Nevada recover damages for their extensive burns in catastrophic injuries. We have achieved million-dollar verdicts and settlements for our burn injury clients. A burn injury case could be very complex, and so it is very important to hire an experienced burn injury accident attorney to look at those claims for you and investigate the fault of the other party.
Causes of Burn Injuries
Burn injuries could happen in several different ways. With our experience, we have noticed that burn injuries can be commonly caused in the following situations:
Car accidents
Car manufacturing defects
Boat manufacturing defects
Thermal Burns
Chemical burns
Explosion
Improper maintenance of power lines
There are several other causes not listed here. If you have an injured and sustained burn injuries as a result of any one of the above causes, contact our attorneys today to determine the different legal strategies we can take to maximize your compensation.
Types of Burn Injuries
There are four different levels of burn injuries. They are ranked from least severe to the most severe. Knowing which burn degree you have will help assess any further course of legal action that may be in your future.
First-Degree Burn: first degree burn is the least severe burn and is easily treatable. It may result in very minimal scarring.
Second-Degree Burn: a second degree burn affects the outer layer of the skin and the second layer of the skin. Second-degree burns are likely to cause redness and scarring.
Third-Degree Burn: a third degree burn requires hospitalization, and goes under the second dermis layer. Third degree burn results in severe damage to the nerves.
Fourth-Degree Burn: fourth degree burns are most likely to be fatal.
Complications Associated with Burn Injuries
Burn injuries could result in severe permanent injuries. Different complications that result from burn injury cases include:
Scars
Skin graft surgery
Bone problems
Psychological trauma
Infections
Skin treatments needed for years following the accident
What Are the Common Treatments for Burn Injuries?
There are different types of treatments that your doctor may recommend when treating burn injuries as a result of an accident. For example, pain medication may be prescribed to deal with the pain. Doctors can also prescribe creams and antibiotic ointments to prevent any future infections. If the burn injury is very severe, the victim may have to undergo skin grafts and plastic surgeries. In very severe cases, limbs may have to be amputated because of the excessive charging. Burn victims could also end up having future respiratory problems because of inhaling the smoke.
Do I Have to Pay for My Own Medical Treatments?
One of the most common questions we get from burn injury victims is whether they have to pay for their burn treatment out of pocket. Our burn injury attorneys will be able to assess the situation and determine how we could provide a medical lien against medical providers. We understand that burn victims need immediate medical attention, and burn victims should not have to pay out of pocket for the treatment they deserve. Our attorneys will be able to recoup these medical costs in a settlement or judgment.
How to Determine Liability in Burn Injury Claims?
Burn injuries could happen in several different ways, and can oftentimes involve several different parties. Oftentimes, one party alone is not negligent to contribute to a severe burn injury. That is why it is important to hire an experienced burn injury attorney to investigate the claims and determine who the at fault party could be. Our skilled burn injury attorneys have handled dozens of burn injury cases and know what we are looking for when litigating a burn injury claim.
What Does the Average Burn Injury Claim Cost?
Every burn injury case is unique, but a burn injury settlement will typically cover the cost of your medical treatment and lost wages. Several factors could determine the cost of the burn injury claim, including the severity of the burn, details surrounding the case, and who was discovered to be at fault.
 What Type of Damages Could I Recover for My Burn Injuries?
If you or a loved one has sustained burn injuries as a result of someone else's negligence, the different damages you could collect includes:
Medical expenses
Lost wages
Loss of companionship
Pain and suffering
Legal fees
Property repairs
Burn Injury Contingency Fee Attorneys
Our burn injury attorneys work on a contingency fee basis, which means that you do not have to pay our attorneys upfront unless we win monetary damages for your injuries. If we do not get a settlement or judgment in your favor, you do not have to pay us anything.
When Should I Hire a Burn Injury Lawyer?
It is always better to hire a burn injury attorney sooner rather than later. We advise our clients to seek medical and legal attention immediately following a burn injury. Getting in touch with a lawyer at the beginning of your situation can help quickly fast-track your case all the way to a settlement payout or a judgment.
A lawyer working alongside you as you recover can be an extremely valuable tool and time saver. They can help keep track of evidence and medical records. They can go through all the paperwork and hold responsible parties accountable for your burn injury. You want someone with proven results of winning cases working on your burn injury claim. Heidari Law Group has handled a variety of burn injury cases across California and Nevada.
What to Do If Your Burn Injury Happened While On the Job
Did your burn injury happen while you were at work and on the job? Did the burn injury result from an unaddressed safety hazard or negligence from your employer?
Your employer is responsible for providing a safe working environment for employees. They are responsible for providing safety gear to protect you from injuries like burns if you work with dangerous chemicals that could cause burns. They also need to provide adequate protective gear if you are in dangerous or risky situations that could cause burns. Failing to do so could prove to be negligent and could entitle you to a burn injury claim payout.
If you get a burn while on the job, be sure to document everything. Get written statements and photo evidence. This will help you build a winning case.
What to Do If Your Burn Injury Happened at a Commercial Business
What happens if you are out at a restaurant or shop and you suffer from a burn injury? Who is responsible? Are you entitled to a claim?
If you are out in a commercial business and you experience a burn, you could definitely be entitled to a burn injury claim. Always take pictures of the scene where the injury occurred and detailed photos of the burn itself. In this case, it is a good idea to hire a personal injury attorney. The business will have liability insurance that is meant to cover things like personal injuries and burns. They may also have lawyers who will try to remove the responsibility from the business. A personal injury attorney can help to navigate the complicated nature of a lawsuit and get you the compensation you deserve.
What Does the Average Burn Injury Claim Look Like?
While every case is unique, a burn injury settlement will typically cover the cost of your medical treatment and even lost wages. This can be tens of thousands of dollars upward to hundreds of thousands of dollars, depending on the severity of the burn, details surrounding the case, and who was discovered to be at fault.
Contact Our Burn Injury Attorneys Today
At Heidari Law Group, we understand that burn injuries can be very devastating, especially to the victim and their family members. Not only could having burns result in extreme pain, but it could result in permanent scarring that leads to self-esteem issues and low confidence.
Our experienced burn injury attorneys focus on the legal costs and hurdles while you focus on healing from your burn injuries. Even if you are unsure as to who might have been the cause of your burn injuries, contact our California and Nevada burn injury attorneys today to discuss the different options we can take, and potential defendants for your claim.
We have offices located in every major city in California and Nevada, and are readily available to answer any of your legal questions. Get in touch with our burn injury attorneys today. We are available 24/7 via phone or by email. Contact us today for a free case evaluation.