California Slip and Fall Lawyer
Slip and Fall Accident on a Property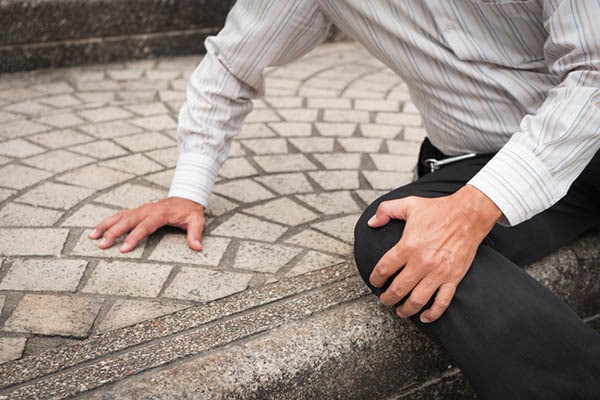 California Slip and Fall Attorney
Slip and Fall Accidents (Trip and Fall) can happen with the possibility of serious injuries. This can fall under premises liability claim and can be entitled monetary compensation if there is a serious injury that has occurred.
Accidents absolutely do happen, it is part of life. Though, there are times when a slip and fall is really no one's fault – from the outside. But, when you look deeper at it, a trip or fall over and object ends up being the end result of a very badly designed, halfway constructed, or semi-maintained commercial and/or basic property that falls under residential or commercial and results in serious injury, it can very well, depending on how its investigated – be the full responsibility of owner of the respective property who would compensate you for your emotional distress, physical pain and short/long term suffering. This would also include the loss of finances from not having a job during this time  and the massive amount of medical expenses
Examples of a Slip and Fall Injuries:
A few examples of slip and fall injury types include:
Head Injuries

Broken Arm, Leg, Ankle

Fractured Bones

Soft Tissue Injury (Torn ligament or sprained ankle/wrist)

Skin Injuries

Spinal Cord Injury
(Fictional) Example of a California Slip and Fall Injury case:
At a crowded airport on a busy Friday afternoon, Thomas slips on water left on the floor in front of the airport coffee shop. The area was extremely wet, though not visible. There were many employees in the area, but nobody took the time to put a caution sign on the ground, nor clean up the spill. After looking and investigating the video footage, the spill had been there for a very long time, and none of the employees had done anything to correct it.
The airport management/owners are most likely to be held liable for Thomas' fall. The reason why is the because the fact that the spill had been on the ground for a long time and none of the employees had done anything to correct it. What should have been done is that their cleaning crew or an assigned "safety employee" should have done their respective rounds and looked for spills, helping prevent this type of accident. Since nobody did this, Thomas is now severely injured and will be out of work for the next 5 months due to a tore ACL and medial meniscus. 
Responsibility of the Business or Property Owner after a Slip and Fall Injury:
If you are living in California and have suffered a slip and fall injury, you should seek medical attention and contacted a professional California Slip and Fall Injury Lawyer.
There is a responsibility of a business that states if they are going to keep their doors open, they have a duty to their patrons and even employees to keep everything safe. This goes from a logistical standpoint all the way to how they treat their employees. In this case we are looking at the logistics (meaning the structure of the building/office).
This duty to their patrons and employees is common sense, and if their building is not designed in a manner that is safe, then they need to do their due diligence in order to create a safe environment. What this entails is that the owner is required to implement specific protocol and more specifically follow guidelines and procedures to check up and inspect the premises of the building and notate any type of risks that would end up as an injury to their customers/patrons/employees.
What does this mean? On their end, this would equate to very quickly and precisely cleaning up all types of spills, and then setting out yellow caution signs (should the floors be wet or hazardous), or even addressing in a prompt manner – any other real hazardous type conditions.
Here is the problem. Many businesses do not follow these type of proactive procedures and take precaution, and because of their negligence, you may have experienced a slip and fall accident. Now you are most likely stuck without work, emotionally distressed and physically damaged.
Heidari Law Group has your back during a California Slip and Fall Injury Case
Going through the trials and tribulations of a slip and fall injury is not simple. The aftermath process can be quite daunting. There are many details that come along with it that you need to oversee, if you do not want to be left in the dust. On top of being injured, you are most likely going to be left at home without work, which is a double hit- especially if you do not have the financial resources.
Here are some ways that our experienced team here would get your back from the beginning:
Our firm will provide you a full breakdown, in detail of what you are to expect during the process.
We ask the right questions. We investigate the right variables. We follow up appropriately. We do not leave you hanging. 
Our firm fights hard for you. We have lot's of experience to get the right outcome. 
An experienced team of slip and fall attorneys will help guide you through your person injury case. If you or a loved on living in California has suffered a slip and full injury, please contact us here at the Heidari Law Group.