Herniated Disk Injury Attorney
Work with an experienced team of personal injury lawyers at Heidari Law Group.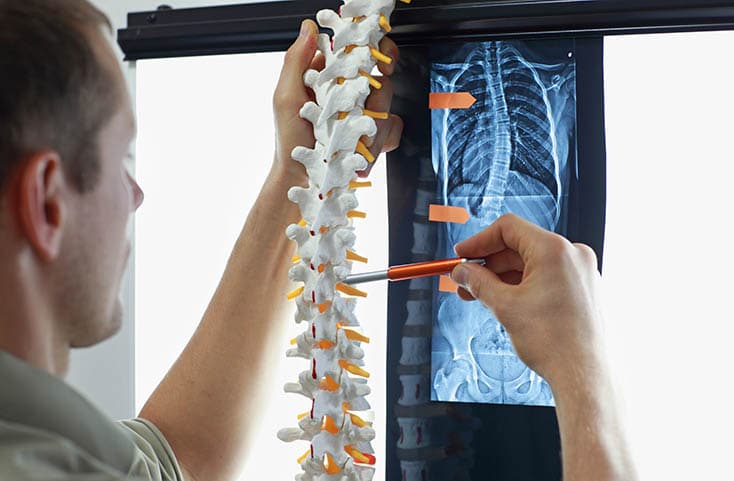 Have you suffered a herniated disk injury because of the negligence of another party? If so, you may be entitled to receive compensation for your damages according to California law.
There are anywhere from 5 to 20 cases of herniated disks per 1,000 adults in the United States alone. There are many different causes of herniations including accidents, car crashes, and slip and fall. When you've been injured through no fault of your own, it's time to hire a lawyer to represent your interests.
Read on to learn how a Herniated Disk Injury Lawyer can help you file an injury claim today!
Learning About Your Case
Even if you don't have herniated disk symptoms, you should speak with a lawyer. Do it soon after the events that give rise to your injuries.
For example, if you were in a car accident or slip and fell in a grocery store, don't speak with the other side. You should also avoid talking to insurance companies representing each party. Instead, you should begin looking for an attorney to represent you.
At your first meeting with an attorney, they will listen to your version of the events. They will also speak with you about certain facts that are unclear. This is so your attorney has as complete a picture as possible. 
The things that you discuss with your attorney during legal representation are confidential. This means that they are often protected from discovery by the other side. This is the attorney-client privilege and is a powerful tool during the representation.
Applying Facts to California Law
Unlike a layperson, a California herniated Disk Injury Attorney has legal training and experience with state and federal law. To practice law in the State of California, an attorney must pass a rigorous bar examination on numerous areas of the law.
They will also need to show that they have the professional character for admission to practice law. These minimum qualifications help protect the public from lawyers that are unfit to practice law. 
Your attorney will use his or her legal knowledge to apply the facts of your case to California law. A lawyer is not a doctor, but one who is familiar with herniated disk injury cases can give you the strengths and weaknesses of your case.
If your claims require, you may have to file a lawsuit so that you can recover your damages from the at-fault party. During the suit, the parties participate in a formal process of discovery. This allows each side to have a better idea of the pros and cons of pushing a case to trial.
Hiring Experts to Give Professional Opinions
Herniated disk injury cases that are litigated in court are often won or lost based on the testimony of an expert witness. In the context of these cases, an expert is often a chiropractor or other doctor that is experienced in handling spinal injury cases.
An attorney will speak with you about why they believe an expert will be helpful to your case. They will speak with you about all of your questions and concerns before you decide to retain an expert. 
An expert witness will then examine your spine and/or treat you for months or years. This allows the expert to get a true appreciation for your injuries and to recommend a course of action towards a potential recovery. 
Are you asking, 'Is herniated disk a permanent injury?' An expert witness like a doctor can tell you what they believe based on their observations. 
Preparing a Demand Letter
Lawyers are trained to be analytical thinkers and persuasive oralists and writers. This legal training is important in herniated disk cases because one of the first things an attorney will do is write a demand letter on your behalf. 
What is a demand letter and why is it important? This is your opportunity to give a summary of the facts of your incident and attach some of your most important medical records. Your attorney will apply the law to your facts and then make a demand for payment of damages. 
The demand letter often has a deadline for payment of damages or you will take the next step in the process by filing a lawsuit. 
Drafting a Complaint
Litigation can be an expensive option for most, but your Herniated Disk Injury Lawyer will usually operate on a contingency fee basis. Generally speaking, this means that you – the client – will not be on the hook for attorney's fees unless you win the case.
Before your attorney can file a lawsuit, they must prepare the draft of a complaint. Think of a complaint as a legal document that serves to make allegations against defendants and put them on notice of it.
Filing a Lawsuit
After your attorney has prepared a copy of the complaint, they must then file a copy in the court located where your accident took place. They will request that a summons be issued by the clerk of that jurisdiction.
When your lawyer files a complaint, the clerk will issue a summons that will be sent to your attorney. They must then serve the process on each defendant in the case. They accomplish this by hiring a process server to physically serve a copy of the complaint and summons on the defendant(s).
After service of the process, each defendant will have 20 days to file a response to the allegations against them.
Experienced Herniated Disk Injury Lawyers at Heidari Law Group
The decision to hire a herniated disk injury lawyer is an important one in your life after suffering a spinal injury. Whether you are experiencing herniated disk symptoms or not, don't delay discussing your case.
At Heidari Law Group, we are a group of California attorneys specializing in plaintiff's injury claims including herniated disks and automobile accidents.
Contact us today to schedule your free consultation.