Trampoline Injury Lawyers
Contact our trampoline injury attorneys today for a free case consultation.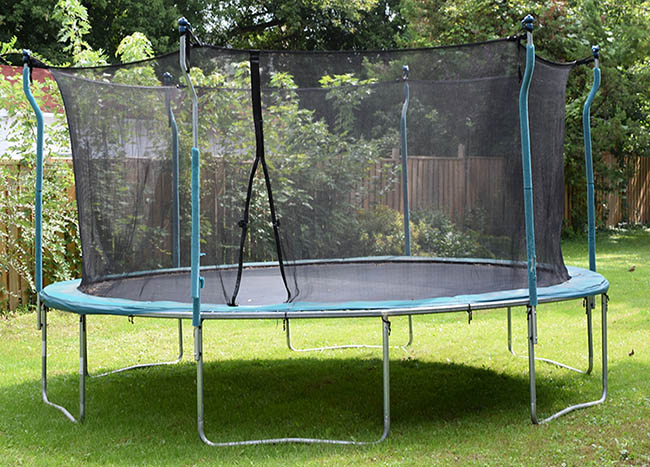 Trampolines can be quite dangerous. There were more than 300,000 medically-treated trampoline injuries in 2018 alone. If you or your loved ones get injured while on a trampoline, it can be a debilitating and frustrating process. However, if the trampoline injuries resulted due to the negligence of another party, you may be able to get compensation for the damages suffered.
With the complexity of personal injury cases, seeking compensation on your own might be a daunting task. Hiring a trampoline injury lawyer is the best option to ensure you get reasonable compensation on time. Handling the case on your own, you have to be ready to face the insurance claim adjusters and a team of an experienced lawyers from the insurance company. Without legal knowledge on trampoline injuries, you might not stand a chance to get just compensation in such a case. A trampoline injury lawyer will fight for your rights and represent your case.
What to Consider When Looking for a Trampoline Injury Lawyer
Experience
Before hiring a lawyer, ensure they are experienced in handling trampoline injury lawsuits. It would be unfortunate to hire inexperienced lawyers because they specialize in trampoline injury cases. They might not be aware of the loopholes that can be utilized to make your case stronger. Besides, they might not be familiar with all rules and regulations involved with your case. An experienced lawyer will always know the best actions to take to make your case stronger. Due to their experience, they know how to counter delay tactics deployed by insurance companies.
To determine the reputation of a trampoline injury lawyer, you can visit their website. Most lawyers indicate the number of years they have been practicing law on their website. You should also check the number of cases the lawyer has represented and won. A lawyer with more than five years of experience and winning more than 80 % of cases represented is worth your trust.
Credentials
Before hiring a lawyer, you must ensure they have completed legal training. The lawyer must have attained an LLB degree from some of the reputable institutions. Apart from degree check whether the lawyer has won any awards or received recognition in their field. You should also check whether the lawyer is a member of a legal organization like the Trial Lawyer Association. An experienced lawyer with all the credentials and won awards might be worth trusting with your case.
The Reputation of Trampoline Injury Lawyers
Hiring a trampoline injury lawyer who is certified and experienced is not always a guarantee for quality services. Some lawyers have been practicing law for a long time, but their winning rate is wanting. If you land on such a lawyer's hands, you will waste time and never get fair compensation. Thus, before hiring a lawyer, ask them about their past cases. Ask the number of cases they have represented and how many they have won. Reading online reviews is crucial if you are still in doubt about the lawyer's reputation. Start by reading reviews present on the lawyer's website.
Such reviews will inform you about the competence and quality of services offered by a lawyer. If the reviews seem too good to trust, check for third part reviews like those on Better Business Bureau. Such reviews are more genuine as they are beyond the influence of the lawyer. A trampoline injury lawyer with a rating of 4 and lots of positive reviews might be the right for the job.
Fee Structure
Before contacting a trampoline attorney, you must understand their fee structure properly. The fee structure varies from one lawyer to another. Thus, comparing lawyer fees is paramount. This way, you will get a lawyer whose charges match your budget. However, ensure to have the fee structure broken down for you. Otherwise, you might end up getting a fee-related surprise at the end of the case.
Even if the lawyer operates on a contingency fee basis, ensure to understand the percentage payment they will seek at the end. It would be unfortunate to get a reasonable compensation only for the lawyer to end up with more than three-quarters of the share. Apart from lawyers fees, you need to understand that other costs might arise. Expert witness and court-related costs might arise during the process. Before engaging the lawyer to ensure you understand your responsibility towards such costs. However, avoid them if you come across trampoline lawyers charging prices below the market rate. They are either inexperienced or offer shoddy services.
Location
When dealing with a trampoline park injury lawsuit, you will need a lawyer who understands the by-laws applicable in your area. Thus, it's always better to hire a trampoline injury lawyer from your locality. Meeting such lawyers to seek guidance and clarification becomes easy if they are located near your residence. Besides, it will be easy for such lawyers to travel to the court location.
Area of Specialization
Any lawyer out there might promise to handle your trampoline injury case. But if they don't specialize in that area getting reasonable compensation might be impossible. This is because they might not be aware of the specific rules that only apply to trampoline injuries. Thus, before hiring a lawyer, ensure they specialize in a trampoline injury case.
Speak to an Experienced Trampoline Injury Lawyer Today
Finding a trampoline injury lawyer with clients' interests at heart might be challenging. But with the right tips and knowledge, choosing a lawyer to help you get reasonable compensation becomes easy. Are you looking for a trampoline injury lawyer in Los Angeles, Las Vegas, and surrounding areas? At Heidari Law Group, we got you covered.
Our experienced personal injury attorneys will review your case to ensure you get just compensation. Contact us today for a free case consultation.