State Farm Bad Faith Insurance Attorney
Contact us today to schedule your free no obligation consultation with our experienced State Farm bad faith insurance lawyers.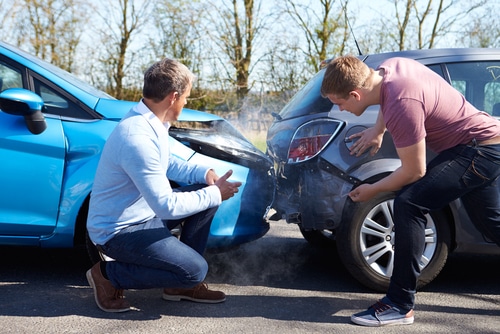 State Farm Insurance is one of the largest insurance companies in the United States. When someone gets involved in an accident, they assume that their insurance company will step in and help them in the case of any injuries, or property damage that has been suffered. 
Many people do not realize that each insurance company has certain obligations they must have towards their insured. For example, one of the most important responsibilities State Farm has towards their insured is to act in a good-faith manner. This means that an investigation into a claim must be done in good faith, and all settlement negotiations must be done in good faith as well. 
State Farm is an insurance company that is known to be a mutual company. This means that State Farm does not have any stock, and instead all the policyholders, or insureds, own a bit of the company.
Filing a claim with your insurance company could be a very difficult process. Contact our personal injury attorneys today for more information on dealing with State Farm, and how to file a claim. Our attorneys will be able to give you an idea as to how much your payout claim may be, and how we could file the State Farm claim in your favor.
If you build a strong case, you will most likely be awarded a payout for your State Farm claim. The hard part is building the case, and gathering as much evidence as possible. The more evidence you have that shows that the other party was liable, the more likely State Farm will negotiate a settlement amount that is in your favor.  If you do not have strong evidence in your favor, there is the likelihood that State Farm Insurance will deny your claim, or offer you a low settlement amount.
Our State Farm Insurance attorneys work in California and Nevada, and have decades of experience dealing with insurance claims in the past. If you have a claim with State Farm, contact us today for a free consultation. 
When should I file my State Farm claim?
State Farm does not have a specific time limit on when you should file your claim compared to other insurance companies. But, keep in mind that the longer you wait, the more likely State Farm will deny your claim.  Reasons for this may be because:
Evidence may be difficult to obtain

The investigation may be compromised

The delay may be unreasonable 
Will my insurance at State Farm increase when I file a claim or a lawsuit?
Your insurance rate will not increase if you were not responsible for the accident. If you are determined to be partially responsible for the accident after an investigation done by the adjuster, your insurance rates may go up.
How can I file a successful State Farm Insurance claim?
There are several steps you can take to make sure that the State Farm Insurance claim process goes along smoothly. These different steps could include:
Thoroughly understand your insurance policy. If you do not have a copy of your insurance policy, all insurance companies are required to provide it to you. We recommend that you speak to an insurance agent to get an online copy of your insurance policy. You will then be able to determine what your policy covers, and whether the accident fell under your insurance policy.

Record all conversations. When you speak to your insurance adjuster or an insurance agent, the call is recorded. Make sure that you write down who you are speaking to, the date and time, and what exactly the phone conversation was about.

Gather all evidence. Depending on the claim that you are trying to make, there are specific documents and records that you must gather. For example, if you have suffered injuries, then you should gather all your medical records and billing statements. If you have suffered damage to your vehicle, make sure you have a repair invoice in hand. Keep in mind that even after providing all this information, the insurance adjuster may still ask for more information. 

Hire an experienced legal team immediately. Each insurance company has a specific time limit on when you should file your claim. Certain law firms, including our law firm at Heidari Law, offer free case evaluations where we will take a look at all of the details involved in your case. Once we analyze all the details, we will then be able to give you the best legal strategies and tips that you could take. Give our attorneys a call today. 
The State Farm claim center is open 24/7. When filing a claim, a representative will need to know all the information about the accident. They will assign you a specific claim number.
What type of damages could I recover from my State Farm claim?
You may be able to receive a settlement amount from your insurance company once they determine that you are not at fault for the accident. The insurance company will then take a look at all of the damages that you have suffered, and offer an amount that takes into consideration different types of damages. Some examples of damages include:
Medical costs: this refers to all of the medical care and treatment you may have needed to treat your injuries from the accident, and any future medical care that you may need.

Wages: this could refer to the wages that you missed out on since you called out from work from dealing with your injuries.

Emotional distress: This is also referred to as pain and suffering. Pain and suffering takes into consideration the emotional struggle and trauma you had when dealing with your injuries.

Punitive damages: this damage is awarded in lawsuits for bad faith. Punitive damages are awarded by the court to the insured when they notice that the insurance company engaged in some type of malicious behavior. Keep in mind that punitive damages are not always awarded, and only in exceptional circumstances. 
What if my car was totaled in an accident?
A car is totaled when the repair cost is worth more than the actual value of the vehicle itself.  If your car has been severely damaged, it may be considered totaled. If your car is totaled, and you file a claim with State Farm Insurance, State Farm will pay the market value of the car prior to the accident. 
Do I need a lawyer for my State Farm claim?
Serious claims, such as claims that involve multiple parties, parties not admitting liability, or if you have suffered serious injuries, will require a highly qualified accident attorney. If you are involved in a serious accident, we recommend that you have an attorney representing you throughout the claims process. Having an attorney represent you when dealing with State Farm will be very helpful when insurance adjusters get into contact with you, and when settling for a specific amount. Usually, the settlement amount you will receive will be much higher if you have an attorney representing you. 
How long does State Farm take to settle a claim?
When a claim is filed, insurance adjusters will then be assigned to your specific claim. State Farm adjusters will investigate every detail involved in the claim. Once they investigate the claim, and determine that you are not at fault, they will then make a settlement offer. A settlement offer is usually offered to the insured around 45 days once the claim is filed. But, keep in mind that the claim could take much longer if there are other parties involved, and the accident is a bit tricky to determine liability for. In certain cases, State Farm could get back to you even sooner than 45 days since they will try to offer a low amount simply to get this claim out of their system. 
Will my State Farm lawsuit go to trial?
Each case is different from one another. Some cases may end up going to trial, and the case will be decided by the jury. In other claims and lawsuits, it could be settled through negotiations.
Will State Farm pay my medical bills?
When you file a claim after an accident, and State Farm determines that you are not responsible for the accident, State Farm may pay your medical bills. 
Will my State Farm Insurance go up after I get a ticket?
There are two different types of tickets in California. There is a moving violation, and a non-moving violation. A non-moving violation would be something like a parking ticket.  An example of a moving violation would include a speeding ticket. Your State Farm Insurance rates will only go up from a moving violation. This means that your insurance rates will not go up from a simple parking ticket. 
Our Attorneys Will Help You Get Compensated. Call Us Today. 
Contact our State Farm attorneys today to see how we can help you file a claim. We always want to make sure that those involved in an accident and have suffered injuries get the compensation and the justice they deserve. Give us a call today to discuss your options. We recommend that you call our attorney at Heidari Law immediately after being involved in an accident. 
Could I appeal my State Farm claim decision?
If State Farm denies your claim, you have the right to appeal their decision. When appealing their decision, a letter must be filed by you explaining why they should reverse their decision. We recommend that you speak to our attorneys prior to filing an appeal. If State Farm still continues to deny your claim, you could then file a lawsuit.