Bad Faith Car Insurance Attorneys
Have you had your car insurance claims denied? Contact our experienced attorneys today to see how we can help you.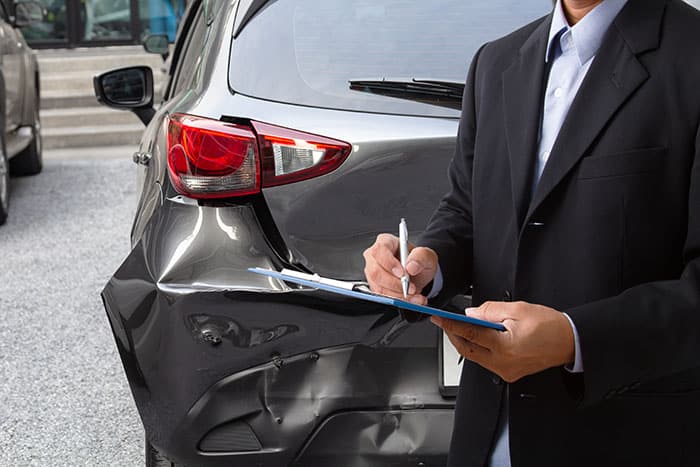 Having car insurance is a requirement in California. You will not be able to drive a vehicle unless you have purchased car insurance. If you are to be involved in an accident you look towards your insurance company to reimburse you for the losses you have suffered. But what happens if your car insurance company denies or underpays your car insurance claim? Nobody deserves to have their claim denied or underpaid simply because the car insurance company does not want to pay out the coverage.
When an insurance company acts like this, you have the right to file a bad faith Insurance claim against the car insurance company. There are several different ways car insurance companies can engage in bad faith behavior. Having a trusted bad faith attorney on your side will be one of the best things you can do in your lawsuit. An experienced bad faith car insurance attorney will be able to adequately represent you and make sure that all of your rights are well-represented. Failure to have an experienced attorney could cost you to miss out on thousands of dollars. Car insurance companies always take advantage of victims who do not have legal representation to defend them.
What is bad faith?
Bad faith insurance law occurs when an insurance company refuses to pay out your claim, refuses to defend you, or underpays your claim. Insurance companies have a duty to their clients to make sure that they provide reasonable services. When they don't, the insurance company could be held liable under a bad faith legal claim.
What is a car insurance company expected to do?
Investigate: when a car accident occurs and you have filed a claim with your insurance company, your insurance company must investigate the circumstances of the accident.
Indemnification: an insurance company must agree to a settlement agreement with their policy holder.
Defense: an insurance company must properly defend their insurer.
Settle: an insurance company has a duty to insurance companies to settle reasonably. If the insurance company fails to settle, they will be able to take the claim to trial.
What are examples of bad faith by a car insurance company?
 Insurance companies often place their priorities over the insurers, this then causes bad faith insurance claims to occur. Insurance companies will always try to downplay their liability to avoid paying out a large amount. It is very important to keep in mind the different methods that insurance companies may take to pay out a lesser amount.
Denying the claim: when a car insurance company denies a claim without having a legitimate reason, you may be able to hold the insurance company liable under a bad faith insurance claim.
Delay the investigation: insurance companies may delay the investigation into your car accident as much as possible to avoid paying out a larger amount.
Not having an investigation: oftentimes, insurance companies may not even hold their own investigation into the car accident.
Discouraged or threatened the insurer from seeking a higher amount: this occurs when the insurance company tries to manipulate their insurer and prevent them from seeking a larger amount for their claim.
Offering less: this is one of the most common tactics a car insurance company uses. They tried to offer a lower amount for your car insurance claim. This amount may only take into consideration your medical bills, instead of all the bills you have sustained such as lost wages.
What are the different types of car insurance claims?
In order to determine the bad faith action your car insurance company has taken part in, it is important to understand and determine what type of car insurance coverage and claims you have. There are several different types of car insurance claims, and we will be able to provide you with more specific details during your free no obligation consultation. Our experienced legal team will look at all the facts related to your car accident claim with the insurance company, and determine what type of car accident claim you have, along with what type of bad faith behavior your car insurance company is engaging in.
The different types of car insurance claims are:
Property damage: in an accident, the victim will most likely suffer property damage to their vehicle. Abrupt force and collisions cause property damage to all the vehicles involved. Property damage car accident claims are one of the most common car insurance claims. Property damage is covered under car insurance policies. Property damage claims allow you to seek reimbursement for fixing your car, or having your car replaced. Replacement or repair depends on the circumstances of the accident. If you have sustained severe property damage, you most likely will need a replacement of your vehicle.
Defense:  one type of claim your car insurance policy may have is being defended by your car insurance company if you have caused the property damage. When there are personal injury claims made against you, your insurance company must step in and defend you.
Theft: this occurs when someone has stolen your vehicle, and you need to replace it. You have the expectation that your car will be replaced after it has been stolen.
Vandalism: if your car has been vandalized, you may be able to file a claim with your car insurance company to have the car replaced or repaired.
Uninsured and underinsured: these are two different types of insurance claims that we may file against our car insurance company. If you have been involved in an accident with an uninsured driver, you have the right to get compensation from your car insurance company. If you have been involved in an accident with another driver whose insurance company does not adequately compensate you for your damages, you have the right to file an underinsured car insurance claim against your car insurance company.
To determine what specific type of car insurance claim you have, contact our attorneys today.
Dealing with a difficult car insurance company? Contact Our Bad Faith Attorneys Today
Our bad faith attorneys work on a contingency fee basis, which means that our clients do not pay for us up front unless we win a settlement or judgment in our client's favor. We have offices located in several cities in California, and are available anytime to answer any questions or concerns our clients may have regarding their bad faith car insurance claim.
We know how stressful it could be to be involved in a car accident, and it could be even more stressful when your car insurance company denies you the money you deserve. You have the right to hold the car insurance company responsible for their actions under a bad faith insurance claim.
Our attorneys have decades of experience representing victims who have been mistreated by their car insurance companies. You deserve to receive the full value of your car insurance claim. People have a reasonable expectation to be paid out a reasonable amount, given the circumstances that they pay monthly car insurance premiums.
Bad faith actions by insurance companies can take place with almost any different type of insurance. We handle all different types of complex cases, such as bad faith home insurance cases, bad faith life insurance cases, bad faith disability insurance cases, etc.
Contact us today to request a free consultation.