Liberty Mutual Bad Faith Insurance Attorney
Contact us today to schedule your free no obligation consultation with our experienced Liberty Mutual bad faith insurance lawyers.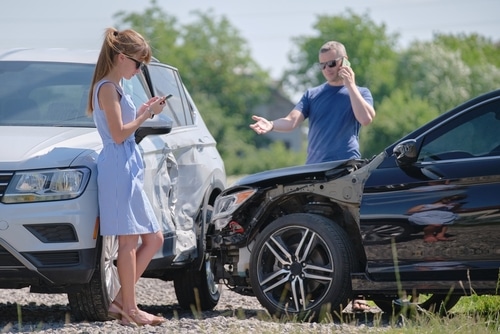 If you have been involved in an accident with someone who has Liberty Mutual car insurance, call our experienced accident attorneys today to see how you could move forward with the claims process.
Liberty Mutual is an insurance company that is very well known in the United States. The insurance company has been known to provide insurance coverage to a variety of different policies including car insurance, boat Insurance, commercial insurance, apartment insurance and many more. Initially, you file a claim with your insurance company to get compensated for your loss. If your insurance company acts in bad faith, you then have the right to file a lawsuit against them to hold them accountable for their bad faith tactics.
Liberty Mutual Insurance had several lawsuits against them in the past for charging their clients high rates, and failing to provide any compensation when claims are filed. In 2009, Liberty Mutual had a lawsuit against them for increasing policy rates, and unreasonably delaying investigations into claims. Another major point that was raised in the lawsuit was the fact that Liberty Mutual kept changing insurance adjusters throughout the claims process. Every time they changed the adjuster, the process would take even longer since the adjuster would have to catch up and review all the information.
Our insurance attorneys have been representing victims who have been taken advantage of by insurance companies for decades, and understand what it takes to make sure you get compensated for the injuries you have suffered. Whether you have suffered a damaged vehicle or severe injuries, you have the right to get compensated by your insurance company if the accident was not determined to be your fault.
What responsibilities do insurance companies have in California? 
In California, insurance companies have a duty to make sure that their policyholders are not taken advantage of. This means that they have several different duties to act in good faith, which could include:
Acting fair throughout the claims process

Investigating each claim diligently and responsibly

Offering a reasonable settlement amount to each claim

Not misrepresenting any policy agreements to their policyholders
What is bad faith?
Bad faith refers to a type of lawsuit filed against an insurance company when they fail to carry out their duties that they have towards their policyholders, whether they are individuals or businesses. If an insurance company fails to act with good faith and fair dealing, an insurance company can be sued by the policyholder for compensation. There are different scenarios where an insurance company could act in bad faith to trigger a lawsuit. Examples may include:
Unfairly denying a claim

Low-balling a settlement amount

Paying the settlement amount late

Denying the emotional distress claim

Refusing to defend a lawsuit

Approving the claim, only to deny it later

Delaying the insurance investigation
What are punitive damages? 
In certain circumstances, policyholders are also able to get punitive damages from the court in a bad faith lawsuit. Punitive damages are awarded in circumstances where the insurance company has acted with malice. The amount of punitive damages is determined by the court. 
When should I file my lawsuit with Liberty Mutual? 
Usually, you must file a claim with your insurance company as soon as you have been involved in an accident. Insurance companies may have a certain time limit on when you should file your claim. Under Liberty Mutual policy, you have 20 days from the date of the accident to file a claim with them specifically. The date may change depending on your specific location, and the circumstances of the accident. 
When it comes to filing a bad faith lawsuit, you have two years from the date of the accident to file a lawsuit against another party. If it is a lawsuit based on the contract, then you have 4 years from the date the contract was violated. To determine if your lawsuit is a contract lawsuit or torts lawsuit, call our bad faith insurance attorneys today. 
How can I file a claim with Liberty Mutual?
You could file a Liberty Mutual claim online through the Liberty Mutual portal.
When will a representative from Liberty Mutual contact me?
When you file a claim with Liberty Mutual, a representative will then contact you. The time for when a representative will contact you depends on the circumstances of the accident. For accidents that involve severe injuries, it may take a week for representatives to get in contact with you. Usually, it may take around two business days for a representative to contact you after a claim has been filed with Liberty Mutual.
Do I need to file a claim with the state?
You have to file an accident report with the state of California if the damages are more than $1,000. This form is called the SR-1 form with the Department of Motor Vehicles. Failing to file the SR-1 form with the Department of Motor Vehicles could subject you to fines and penalties. It could also be used against you by the insurance company. 
What if I was also at fault?
When Liberty Mutual determines that you were also at fault for the accident, you may still be able to recover some type of compensation from your insurance company. You will only be able to recover the difference in the percentage of fault. For example, if you were determined to be at fault for 50% of the damages, you will only be able to recover 50% of the compensation you need. Many insureds may think that simply because they were partially at fault for the accident, they will not be able to recover any amount. This is not the case, and for more information about your specific insurance claim, contact us today.
If you have been unfairly denied your claim with Liberty Mutual Insurance, you have other options. Call our attorneys today to see how we can file a lawsuit against the insurance company for the compensation you deserve. We offer no risk case evaluations to review all the details involved in your claim. 
Liberty Mutual Insurance Claims Attorney
Our attorneys at Heidari Law understand what it takes to file a claim with insurance companies. You do not need to have a lawyer representing you throughout the claims process with your insurance company, but it is highly recommended. Having a highly skilled attorney on your side throughout the process will help ease the stress of the situation. Each policyholder has specific rights under a policy provided by Liberty Mutual. It is our responsibility to make sure our clients understand these rights, and we work hard to get our clients the compensation they deserve.
Do not hesitate in contacting our office today, we are available 24/7 to answer any questions or concerns you may have. Unfortunately, although you may think that the insurance company will work in your favor, at the end of the day, they are still trying to make sure they pay out as little as possible. An insurance company may sometimes put their interests above the policyholders'. Trust our law firm to handle your case, and give us a call today.