Spinal Cord Injury Attorney in Las Vegas
If you're living in Las Vegas and have suffered a spinal cord injury due to another party's negligence, then you need the help of the experienced team of Spinal Cord Injury Attorneys at Heidari Law Group. Reach out to us for a free case evaluation.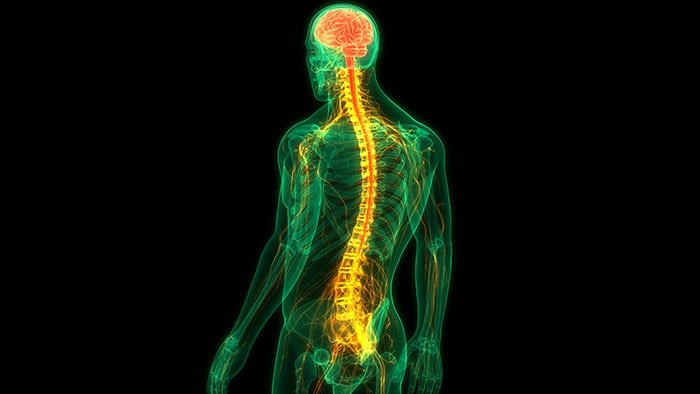 The Las Vegas Strip, although has many safety precautions in place such as heated sidewalks, still experiences multiple car accidents a day. Many of these car accidents result in minor injuries, but oftentimes, they also result in severe injuries such as spinal cord injuries.
Spinal cord injuries cause very severe effects that change a person's life forever. Someone who sustains a spinal cord injury may not return to the same life as they knew it. If you have sustained spinal cord injuries as a result of another person's negligence, you should hold the at-fault party liable. You may have a claim for compensation against the at fault party as a result of your injuries.
Contact our Las Vegas personal injury attorneys for a free no risk consultation to determine whether you have a valid spinal cord injury claim against the defendant, and what types of compensation you could receive for your injuries suffered.
Unfortunately, after going through such a traumatic experience such as a spinal cord injury, many victims feel as though there is no hope. Victims may become completely paralyzed, and then confused as to how they should resort back to normal life. Our Las Vegas spinal cord injury attorneys are strong advocates for people who have suffered serious injuries as a result of another's negligence. Our Las Vegas attorneys hold the at fault party accountable by working aggressively to make sure that our clients receive compensation for their spinal cord injury care, such as medical bills, and future lost income.
Can I sue for a spinal cord injury in Las Vegas?
If you or a loved one have suffered an accident that has resulted in spinal cord injuries in Las Vegas, contact our experienced spinal cord injury attorneys today to determine how you can recover compensation for your injuries. Our attorneys are on standby and ready to help to make sure that you get the compensation you deserve. Our experienced personal injury attorneys are available 24/7 via phone and email, and we have an office located in Las Vegas, Nevada.
What is a spinal cord injury?
The spinal cord is made up of a large network of nerves that connects the brain to the lower back. Because of this build-up of concentrated nerves, any injury that occurs to the spinal cord results in very severe injuries. The spinal cord works to relay any information from the brain to the rest of the body.
There are several different types of spinal cord injuries that could occur. You are eligible to receive compensation for any spinal cord injury you have suffered. Spinal cord injuries are categorized as:
Complete spinal cord injuries
Incomplete spinal cord injuries
Pyrolysis
Spinal concussions
What are the effects of a spinal cord injury?
Spinal cord injuries are almost never minor, and result in very permanent disabilities. Examples of spinal cord injuries include:
Paralysis
Paraplegia
Quadriplegic
Loss of sensation
Loss of physical control
Loss of respiratory function
Loss of muscle control
Loss of body control
Loss of bladder control
 Who is liable for my spinal cord injury case in Nevada?
Under Nevada law, a party who behaves negligently, and causes injuries on to another, is held liable for the other party's damages. This means that the victim of another's negligence could get compensation from the at-fault party. Examples of different defendants in a spinal cord injury lawsuit in Las Vegas include:
Landowners
Bicyclists
Business owners
Causes of Spinal Cord Injury
In most cases, spinal cord injuries result from a traumatic injury or blow to the spine, but some are a result of diseases. Some common causes of spinal cord injury include;
Motor Vehicle Accidents
According to the National Spinal Cord Injury Statistical Center, car crashes are the leading causes of injury, accounting for 42% of all spinal injuries. If you believe that another person's action caused the accident, failure, or act, you can sue them and recover damages for your losses.
Medical Malpractice
Health practitioners are capable of making mistakes, and when their error or poor judgment results in a spinal injury, the implications can be extreme to the victim. Negligence on the medical practitioner's part occurs when they make an error during surgery, delay a medical procedure that should have been performed early, or error in administering an anesthetic during surgery.
Falls and Accidents at Work
12% of work-related injuries involve damage to the spinal cord. Such accidents occur because the work environment is unsafe. Your employer must ensure the environment is safe for their employees. Working closely with a spinal cord injury lawyer in Las Vegas will help you find actionable evidence that the workplace's unsafe conditions were responsible for your injury.
Acts of Violence
The third leading cause of spinal injury after falls and car crashes is acts of violence such as gunshots, knife wounds, and assaults. Suppose you sustain spinal cord injuries due to an act of violence, you can obtain monetary compensation to cover your economic and non-economic damages, including medical bills and rehabilitation fees.
Recreational Sports Activities
Contact sports such as football and hockey are responsible for several spinal cord injuries. If you or your loved one has been injured during a sporting event due to someone else's negligence, you should contact a spinal cord injury attorney in Las Vegas immediately because sports injury cases are complex. The earlier you file your claim, the better.
What type of compensation could I receive for my spinal cord injury lawsuit in Las Vegas?
There are different types of damages you could receive from your spinal cord injury lawsuit. This differs depending on the circumstances of the spinal cord injury accident. To determine what damages apply to your claim, contact our Las Vegas spinal cord injury attorneys today.
Past and future potential medical bills
Future rehabilitation care
Production in the quality of life
Cost of rehabilitation and long-term care
Lost wages
Potential future lost wages
The estimated loss of earning potential
Pain and suffering
Wrongful death
How much do our Las Vegas spinal cord injury attorneys cost?
Our top-rated Las Vegas spinal cord injury lawyers work on a contingency basis, which means that we will not take any costs upfront until we win compensation in your favor. This means that we will front any costs regarding your claim, and take on the risks associated with your claim. Our attorneys offer a free initial consultation. We advise that you speak to one of our attorneys prior to speaking with other insurance companies. Our attorneys will provide you with experienced advice regarding how to hold the at-fault party liable.
Our award-winning Las Vegas attorneys are on standby, and will provide individualized attention to your spinal cord injury claim. We understand that no two spinal cord injury accidents are the same.
Do I have a spinal cord injury?
Spinal cord injuries can vary from a simple whiplash to paralysis. After an accident, some of the signs that your spinal cord injury may be an emergency would include:
Extreme back pain
Tingling on your fingers and toes
Numbness on your fingers and toes
Unable to walk
Difficult to balance standing up
Trouble breathing
Visual signs of your back and neck being broken
Unable to control your bowel movements and bladder control
If you have suffered any type of spinal cord injury, it is very important that you seek medical attention immediately. Followed by getting in contact with top-rated Las Vegas spinal cord injury attorneys.
Has anyone ever recovered from a spinal cord injury?
Although several people have recovered from spinal cord injuries, it may take some time. This is depending on the circumstances and severity of the spinal cord injury. Some examples of the recovery process may require multiple surgeries, physical therapy, and at-home care which can be very expensive to pay out of pocket if your insurance does not cover it. Minor spinal cord injuries could take 6 months to several years, whereas others may result in permanent paralysis for the rest of the person's life.
Contact a Las Vegas Spinal Cord Injury Lawyer Today
Spinal cord injury attorney near me
Our attorneys are readily available to discuss your spinal cord injury case. Our experienced Las Vegas attorneys will be able to assist you and guide you in:
Determining which medical providers to visit to make sure that you receive the proper medical care
Communicating with the at-fault third-party, along with the insurance company
Creating a legal strategy and how-to best advocate for your rights
Investigate your spinal cord injury case to make sure that you received the compensation you deserve
Determine who the potential at fault parties are. Oftentimes there are several different parties that could be involved in a spinal cord injury lawsuit. We work to make sure that all of those who are negligent are held liable
Determine the compensation you are entitled to
Determine the types of compensation you could receive
Constantly keep you informed regarding the status of your case
We will fight for justice while you focus on healing from your spinal cord injuries
If you've suffered a spinal cord injury in Las Vegas due to someone else's negligence or recklessness and wish to seek compensation, hire an experienced spinal cord injury lawyer from Heidari Law Group. At Heidari Law Group, we offer our clients support during the complex litigation process and ensure they get the compensation they deserve.
Contact our dedicated Las Vegas spinal cord injury attorneys today to speak to our top-rated lawyers for a free no risk consultation.