Las Vegas Personal Injury Lawyer
Get experienced help with your personal injury case in Las Vegas at Heidari Law Group. Call today for a free consultation.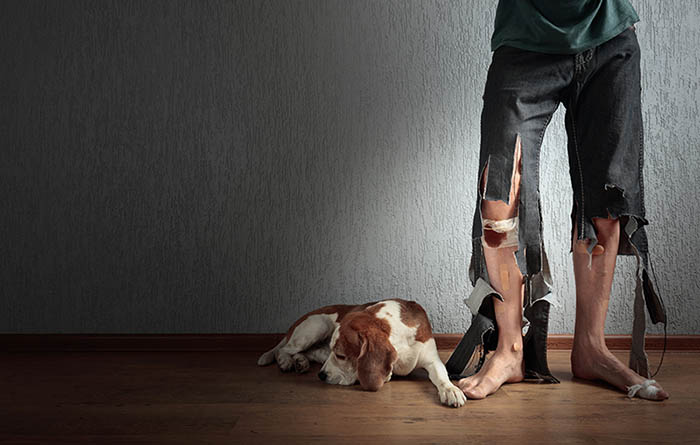 A severe dog bite can hinder your ability to perform your job or live life comfortably. Medical treatment and recovery from a dog attack can be expensive. In 2019, the average payout claim was $44,760.
If you or a loved one are the victim of a dog bite in Nevada, the right dog bite lawyer can help you receive the compensation you deserve from the dog's owner. Depending on the situation, a vicious dog's owner can be held responsible for the animal's aggressive behavior. You shouldn't suffer a financial setback or loss of lifestyle due to a dog owner's negligence regarding your injuries.
If you're wondering how to find a lawyer for a dog bite in Las Vegas, here's what you need to know.
Under Nevada dog bite laws, you may be able to file a legal claim against the dog owner under negligence. This means that the owner should have used ordinary reasonable care, and failed to use ordinary reasonable care. Because they failed to use ordinary reasonable care, the dog bite victim suffered injuries. Las Vegas has several dog bite statutes and laws in place. However, the different laws that apply are dependent on the circumstances of the dog bite accident. For example, where the attack occurred and what the dog's history is may determine the specific Nevada laws that apply.
Dog Bite Laws In Las Vegas
Nevada does not provide a statewide dog bite statute that you may find in other states. However, the law takes negligence that results in a dog attack or injury caused by a dog bite very seriously.
In Nevada, victims of a dog bite can sue the dog's owner to receive compensation for medical expenses and loss of income during recovery. However, without an experienced dog bite attorney, proving negligence can be challenging.
Nevada requires that after a dog has attacked a person, the dog must be reported to Las Vegas animal control. The Las Vegas animal control will take custody of the dog and place the dog in isolation for around a week to make sure that the dog does not have any diseases.
Las Vegas Municipal Code 7.24.010 provides that a dog must be impounded if they are vicious and have engaged in constant biting.
The "One Bite" Rule
If a dog bites a third party for the first time, there can be exceptions to pursuing legal action against the dog owner. However, after the first bite, a dog is considered vicious or aggressive in Nevada. This means that the dog owner must take precautions to make sure the dog does not harm other dogs or other people. Hiring a dog bite attorney can help you receive compensation from the dog's owner—whether it's the dog's first bite or a result of a pattern of vicious behavior and owner negligence.
 Vicious Dogs in Las Vegas
If a dangerous dog attacks another dog or another person, the dog will be considered " vicious".  This means that the dog owner will face civil and criminal charges. Criminal charges will be from the state government, and the civil charges will be a private auction by the injured party. Our Las Vegas attorneys have decades of experience representing dog bite victims in civil actions.
Who is liable if I get bitten by a dog in Nevada?
The state of Nevada does not specifically establish 100% liability on a dog owner if a dog bites someone. Therefore, dog bites can be very complex in Nevada, especially if they involve multiple parties. Usually, the dog owner is most likely going to be held responsible if the dog has a history of aggression.
How do you prove liability in a dog bite case in Nevada?
Since Nevada does not have very specific standards on dog bite cases, it will most likely be proven on a strict liability standard or through negligence standards. There are also several statutes in place, such as leash statutes. For example, if you fail to place your dog on a leash, it is a violation in Clark County, and you could be held responsible under negligence per se legal theory.
When should I file my dog bite claim in Nevada?
In Nevada, the statute of limitations for filing a dog bite claim is 2 years from the date of the incident. This means that you have 2 years from the day the dog attacked the victim. If you miss the deadline for filing your dog bite injury claim in Nevada, you will lose the right to file a claim and seek compensation.
What are the most common injuries associated with a dog bite?
Dogs must be leashed in Las Vegas, Nevada.  A dog bite can lead to very serious injuries, possibly even death. The different types of injuries that could be inflicted include:
Rabies
Broken bones
Head injuries
Rabies
Death
Owner Negligence
Your attorney can help you receive compensation by proving owner negligence in the situation leading up to a dog attack and bite. Owner negligence occurs when:
An owner violates state or local animal control laws by not using a leash or enclosed area to contain the dog
A dog attacks or bites a third party without being provoked while not properly contained
An owner fails to recognize the signs to prevent a potential attack, including the dog growling, showing its teeth, or making eye contact with the victim
If factors contribute to these conditions, victims of a dog bite case can file a lawsuit against the dog's owner. Your dog bite attorney will investigate the circumstances of the case and help compile evidence for negligence that resulted in an unprovoked dog attack and bite.
What should I do if I am a dog bite victim in Las Vegas?
If you have been bitten or attacked by another dog in Las Vegas, Nevada there are several steps you must take in order to ensure that you get maximum compensation for your injuries. Our Las Vegas attorneys advise that you:
Contact the police department immediately to report the dog bite. The police department will look into the circumstances of the dog bite, and call Las Vegas animal control.
Seek medical attention as soon as possible to make sure that you do not suffer any severe injuries. Oftentimes, many think that suffering a dog bite might result in minor injuries. However, dog bite injuries can get aggravated if not treated properly, such as getting infections.
Contact a Las Vegas dog bite injury attorney immediately for free no risk consultation. Our Nevada personal injury attorneys have decades of experience representing victims of dog bites, and are available 24/7 to assist you with your claim.
 Nevada Leash Laws
In Nevada, all dog owners are required to be leashed. This applies even if the dog is on the dog owner's property. If the dog is on a leash and attacks another dog or another human, the dog owner will be held liable for negligence by the injured party.
 What type of compensation can I receive for my dog bite injuries in Nevada?
The different types of compensation you can receive depend on the circumstances of the dog bite injury. For example, someone who has suffered severe dog bite injuries could recover more and compensation compared to another. Examples include:
Hospital stay
Prescription medication
Treatment Bills
Physical therapy
Pain and suffering
Lost wages
Future lost income
Punitive damages (on rare occasions)
 What is a dangerous dog in Nevada?
A dog is considered dangerous if it behaves in a menacing way that requires someone to defend themselves. A dangerous dog has behaviors that result in substantial bodily harm.
What is a vicious dog in Nevada?
A dog is considered vicious in Nevada if it's:
Kills a human being or causes substantial bodily injury, or
Is used by an order to commit a crime, or
Continues to behave similarly to a dangerous dog
Does homeowner's insurance cover dog bites in Nevada?
Depending on the circumstances of the homeowners insurance policy, the insurance will most likely cover dog bites injuries.
 Will I still be liable for a victim's dog bite injuries if I posted a beware of dog sign?
 Although the "beware of a dog" sign is a great way of letting visitors know that there's a dog located in the house, you may still be held liable for negligence if your dog bites another. This depends on the circumstances of the dog bite. If you have been injured in a dog owner's home who has posted beware of dog signs, contact our attorneys today.
How can our Las Vegas dog bite lawyers help you?
Our dedicated Las Vegas dog bite injury attorneys are available 24/7 to pursue your claims and seek justice in your favor. We believe that all negligent dog owners must be held accountable for their actions, and no victim should have to suffer through injuries because of another's negligence. Our attorneys are readily available to listen to your claim, and provide a free no risk initial consultation to evaluate your claim, and determine the possible compensation you could receive.
Choose a Quality Dog Bite Lawyer
Don't suffer without the compensation you deserve for a dog owner's negligence. Let the dog bite lawyer team at Heidari Law Group help! Contact us to review the events of your dog bite case and fight to recover your lost income and medical expenses.
Dog bite injuries can get complex, especially because there are different dog bite Nevada laws that apply depending on the circumstances of the dog bites. Contact us for a free consultation today.