Las Vegas Child Injury Attorneys
Our award-winning personal law firm will provide guidance and representation in order to receive maximum compensation for your child's injuries due to negligence.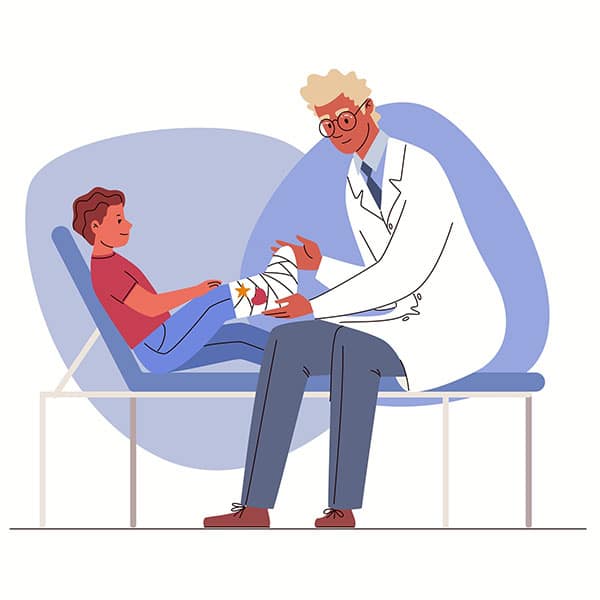 Child Personal Injury Claims
Has your child recently been injured in Las Vegas? Do you suspect that the incident was the direct result of negligence? If so, the rights of your child may have been violated. This could mean that you and your child are entitled to monetary compensation. Injuries to children can be horrifying for parents, leaving them confused and unsure of where to turn. You need to speak to a child injury attorney. Please contact our knowledgeable and experienced personal injury lawyers at the Heidari Law Group. We practice in both California and Nevada and offer a free consultation to walk you through the personal injury claims process and determine the merits of your claim. Our trial lawyers provide determined representation in court so that your rights are respected.
Filing a personal injury claim on behalf of a child is different in several ways from claims where the adult is the victim. Read on to learn more about this process.
Who Can File The Claim?
Because children are legal minors, they cannot sue or be sued in a court of law. In order to bring forward a lawsuit, a qualified adult will need to represent them and make the personal injury claim on their behalf. This qualified adult is known by the legal term "next friend." In personal injury cases, the next friend is usually a parent or relative of the victim. In order to be a next friend, the person must be legally defined as competent and must not have any interests that are against the rights of the person who they are representing (the child in this case). Guardians and parents are not automatically made the next friend in any case where a child is a plaintiff. Rather, you may need to seek court approval in order to serve as this kind of representative.
Many child injury claims arise from incidents involving a situation where another party had a clear duty to provide care for a minor child and was negligent in a way that caused harm to them. For example, an accident in a daycare may be purely innocent or may have been the result of a lack of reasonable care and attention. In this case, the daycare worker would be responsible for their lack of adult supervision. Common injuries in child care that could involve a claim include broken bones, falls, choking, drowning, or brain injuries.  Car accidents involving children are another example of the kind of incident that could be the basis for a personal injury claim.
The Statute of Limitations
Before filing a personal injury claim, you also need to be aware of the statute of limitations. The statute of limitations to file a personal injury claim in the state of Nevada is two years from the date of the injury. This is the limit for adults filing the claim on behalf of the child. However, the child themselves is able to file a claim once they turn 18. According to the statute of limitations, victims of personal injuries who were minors at the time of the injury have two years after they turn 18 to file their own claim. It is also possible to get an extension on the statute of limitations deadline if you file an application to the court.
Class Action Lawsuits
One of the important factors to consider when approaching a personal injury claim to a child is whether or not a valid class-action lawsuit is already happening. If your child was injured by a particular product (lead paint on a toy, for example), several children all over the country may also have been injured. Consequently, a class action lawsuit may be started or might already be in progress. By connecting with other plaintiffs as part of a larger lawsuit like this, the strategy for your case can dramatically change.
Personal Injury Cases Involving Minors
The key question the court will consider when looking at an injury to a minor is whether or not the injury could have been prevented. The issue here is negligence. Negligence is a legal term that refers to a person's failure to behave with the level of care and caution that an ordinary person would have used in similar situations. In order to have merit, the next friend will have to prove that the harm occurred as a result of negligence.
This process usually starts by demonstrating that a person or business had a responsibility to avoid causing harm to the child. Toy companies have an obligation to create safe products, and daycare facilities are required to provide constant adult supervision over minors in their care. This process is called proving a "duty of care."
The next step is to demonstrate a "breach of duty" on the part of the at-fault person or organization. The child's representative will need to prove that the incident was the direct result of negligence rather than a pure accident.
After that, causation will be analyzed. In this phase, the court will consider whether or not the breach of duty was a direct causal factor for the child's injuries.
Finally, the damages will need to be proven. The court will want to verify that your child has injuries that required medical bills. Medical records will be examined and considered, as will evidence of emotional distress.
Child Personal Injury Settlements
Compensation in personal injury claims can cover all attorney's costs as well as the expensive medical bills that often are the result of child injuries. Furthermore, if the child has suffered harm that would require long-term care, expert witnesses can be brought in to demonstrate this. If this is the case, compensation for that long-term care may also be granted.
When a settlement is agreed to, it must be approved by the court. This is true even if the settlement is reached out of court. Furthermore, Nevada state laws require a Blocked Trust Account with a bank must be used for any monetary settlements. This account is considered locked for the exclusive use of the child once they turn 18. Parents or guardians may petition the court to release some or all of the funds before that time. However, this request is left up to the court's discretion, and they will generally only release this money if it is in the child's best interests.
If your child has been injured, don't take on the legal system without having a competent and experienced child injury lawyer in your corner. At the Heidari Law Group, our attorneys know how to get you higher than usual settlement amounts. Plus, because our attorneys work on a contingency fee basis, you do not have to pay us until your case is settled or the verdict is reached in court. Contact us today to learn more about how we can help defend the rights of your child.