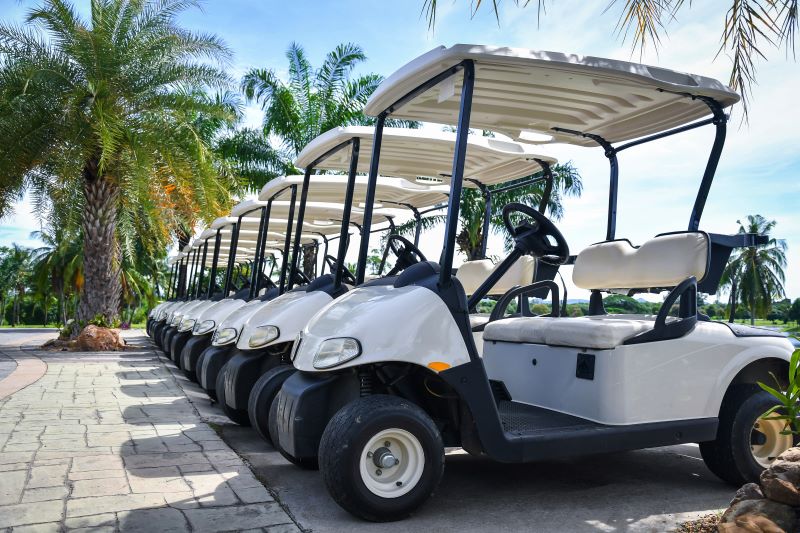 Las Vegas has several different well-known golf courses all around Clark County. Thousands of people flock to these golf courses each year for competitions or for leisure. Although golf is considered to be a very safe sport compared to other sports that involve constant moving around, golf carts are still very dangerous vehicles. Not only are golf carts used for golf courses, but we see them all throughout Las Vegas, such as in shopping malls, parking lots, airports, and in hotel lobbies.
Why are golf carts dangerous? 
The number one reason why golf carts are dangerous is because almost none of them are equipped with air bags or proper seat belts. Recently, there has been a push for golf carts to now have seat belts, but it's still is not enough force to hold the passenger back in the event of a collision.
If you or a loved one have been injured while riding golf carts, give our Las Vegas top rated attorneys a call today to see how you can hold the negligent party liable for your injuries. Sometimes it could get tricky when filing a golf cart lawsuit because many people do not know exactly who they are filing a lawsuit against. There are several different parties that could be held responsible for a golf cart incident that you were involved in. Some examples of parties that could be responsible include:
Hotel management company:

in the case that you are a passenger in a golf cart driving around the hotel, you could hold the hotel management company responsible for any injuries caused by a golf cart collision.

Golf cart repair company:

usually, businesses have a contract with third-party golf cart repair companies so they could maintain and repair the golf cart as required. In the case that the golf cart had been negligently repaired, you could hold the repair company responsible.

Airport:

we have also seen golf carts all throughout the airport as employees try to get passengers on wheelchairs from one point to another. In the event of a golf cart collision, airport security could also be held responsible.

Other Vehicles:

if the golf cart collides with another vehicle, and the other vehicle did not have authority to be on the property, you could hold the driver of the other vehicle responsible.

Parent or guardian:

in the event that a child was illegally driving a golf cart, the parent or guardian could be held responsible.

Owner of the property:

you could hold the owner of the property responsible for failing to inspect and maintain the golf carts on the property.
Keep in mind that there could be several different parties responsible for a single golf cart accident. In the case that there are several parties responsible, you need to have a highly qualified Las Vegas attorney on your side to make sure that your attorney investigates all the circumstances of the accident. Call our attorneys today to schedule a free case evaluation. During this case evaluation, we will take a look at all of these circumstances involving your accident. Our case evaluations are always complementary.
What causes golf cart accidents in Nevada?
Collisions: golf carts could collide with

pedestrians,

other golf carts, or other vehicles such as cars.

Improper seat belts: in the event of an accident, the seatbelt could also be problematic if it is defective and does not hold the passenger back.

Driving under the Influence: it is illegal to drive a golf cart under the influence of drugs and / or alcohol. When a driver is under the influence, their senses could be significantly impaired, and they may have a very slow reaction time.

Tipping over: there is also the possibility of a golf cart tipping over in the case that it is driven too fast. Although the golf cart could reach very high speeds, there is a specific speed limit for each point in the golf course given that there are several different hills and bumps.
What injuries are caused in a golf cart accident?
Back injuries

Traumatic brain injuries

Spinal cord injuries

Broken bones

Lacerations

Whiplash
What if I was also responsible for my golf cart injuries in Las Vegas?
In Las Vegas, there are comparative fault laws. These laws generally mean that if you were more than 51% responsible for the golf cart injuries, you will not be able to hold the party responsible, and will not be able to recover compensation. But, if you were responsible for your injuries less than 51%, then you will be able to hold the other party responsible. 
When should I file my golf cart accident Injury lawsuit in Las Vegas?
You have two years from the date of the injury to file a lawsuit. This may seem like a very long time, however it will pass by fast, after which you will not be able to file a lawsuit. 
Nevada Golf Cart Laws
Below are some of the laws that drivers and owners of golf carts must follow:
The golf cart owner must have insurance for the vehicle. 

The golf cart owner must have a permit for the golf cart with the Nevada Department of Motor Vehicles.

When a golf cart owner receives a permit for the golf cart, they then receive a handbook of all the roads they can and cannot drive on with the golf cart. The golf cart owner could then be held responsible for driving on a road that they should not have been on.

Golf carts do not require a driver's license, just a permit.

The permit needs to constantly be maintained. The Nevada Department of Motor Vehicles will require proof of insurance, along with a yearly fee that has to be paid.
Could I hold a party responsible for my golf cart injuries?
Under Nevada law, one who has been injured in a golf cart accident could hold the at fault party responsible for the injuries suffered. When an injured victim holds the responsible party liable for the injuries, this means the responsible party must have to financially pay the accident victim. The amount that the responsible party must have to pay differs depending on the circumstances, such as the injuries suffered and how liable the responsible party was.
What should I do after a golf cart accident in Las Vegas?
Seek medical help immediately: usually, golf cart accidents could result in very severe injuries that will require immediate medical attention. For example, a spinal cord injury or a

traumatic brain injury

needs to be evaluated by a medical professional right away. If not evaluated immediately, it could result in even more damage, such as internal bleeding.

Make sure you have the property owner's information, along with the golf cart owner's information.

Usually, accidents will have an eyewitness. Gain contact information whenever possible. An eyewitness is used to determine which party was more responsible.

Make sure to attend all of your medical appointments. If you fail to attend your medical appointments, the responsible party could raise this as a defense.

Contact our Las Vegas golf cart attorneys at Heidari Law today to speak to our highly qualified legal staff.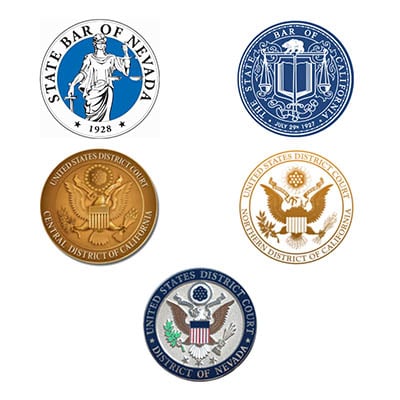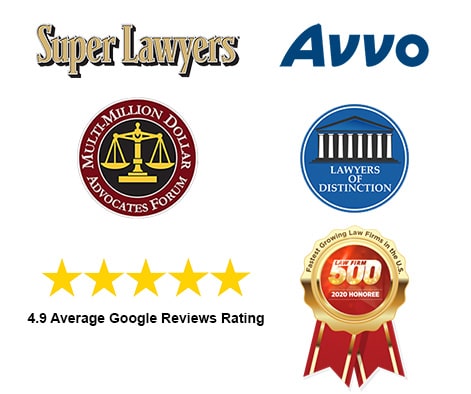 Heidari Law Group Las Vegas Practice Areas