Las Vegas Broken Bones Attorney
Contact our top-rated Las Vegas broken bone attorneys if you have suffered broken bones in an accident caused by a negligent party.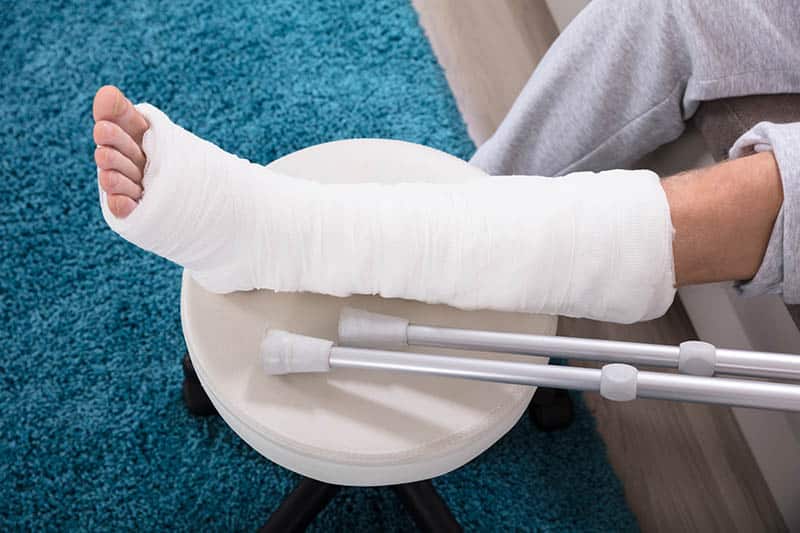 Las Vegas, Nevada is considered a hotspot for slip and falls. Each year, thousands of visitors in Las Vegas are injured in a slip and fall accident on a Las Vegas property. Casinos and hotels could be held liable if they fail to create a safe environment.
If you or a loved one have suffered a broken bone injury in an accident, it is very important to get into contact with legal assistance immediately. Our experienced Las Vegas broken bone injury attorneys have been representing victims who have had broken bone injuries for decades. We believe that negligent parties should be held liable for the injuries they have caused. Broken bones are very severe injuries and can result in permanent disabilities, such as affecting someone's quality of life and their ability to work.
If you have suffered broken bones due to another's negligence, you have the right under Nevada law to receive compensation for your injuries. To pursue compensation for your broken bone injuries, contact our top rated Las Vegas attorneys today.
How do broken bones affect a victim?
Broken bones seem simple to a third person; however a broken bone could result in emotional, financial, and physical ruin. The costs to treat a broken bone range in the thousands because it includes several different types of Imaging such as X-rays and CT scans. Broken bones also affect the victim because it prevents the victim from going back into work and having an income. That's why it is very important to hire a top-rated broken bone injury attorney to represent your claims.
Can you sue for broken bones?
If you have suffered broken bones as a result of another's negligence, Nevada law allows you to seek compensation for your injuries from the party that caused it. It is very important to get into contact with an experienced broken bone lawyer in Las Vegas, Nevada immediately after suffering a broken bone injury accident.
Is a broken bone considered a serious injury?
A broken bone is considered a serious injury since it could lead to permanent injuries. It could render one disabled, and unable to work and return back to normal life. Broken bones are one of the most common types of injuries suffered in an accident.
When do broken bone injuries occur?
Broken bone injuries can occur in almost any different type of accident. These different types of oxidants include:
Train accident
Workplace accidents
What type of injuries are broken bone injuries?
Broken bone injuries are very common, and can occur in almost any different type of accident. Broken bones are caused by pressure on the joints. When there is substantial pressure on the joints, it could cause the bones to crack and break. Broken bones are classified medically into four different types of categories. These four categories are:
Clean breaks: this occurs when the bone has broken into two pieces, and could easily be treated by the physician.
Bone fractures: this occurs when a bone does not substantially break, or when the bone shifts in its place.
Bone chips: this occurs when the bone's cartilage is chipped.
Bone shatters: this is one of the most difficult bone injuries to treat. Bone shatters occur when the bone has broken into more than two pieces.
If you have experienced any of the above-broken bone injury types, it is very important to seek medical care immediately. The sooner you seek medical care, the sooner you can get treatment and prevent the injuries from aggravating. For example, if you wait too long, you could increase the risk of infection and blood vessel damage.
What type of compensation could I receive for my broken bone injury in Las Vegas?
Our top-rated Las Vegas personal injury attorneys will assist you in seeking compensation for your injuries suffered. We understand that broken bone injuries should not be treated lightly, and you could receive a variety of economic and non-economic damages. We communicate with the at-fault party, along with the insurance company to make sure that your compensation is well-represented. These different types of damages you could receive from your broken bone injuries include:
Hospital stays: Treating the broken bones could require several days in the hospital. It is important that you receive compensation for the costly hospital stays.
Treatment costs: Broken bones will require Imaging such as x-rays, along with treating the broken bones. you are able to seek compensation for your treatment.
Physical rehabilitation: Broken bones often take weeks, even months to heal. This also requires several sessions of physical rehabilitation a week.
Wages lost: If you have lost income due to broken bones, you are eligible to seek compensation for your lost wages.
Pain and suffering: this is considered a non-economic type of damage. Pain and suffering involves the emotional trauma felt after experiencing broken bone injuries. For example, you could experience depression and anxiety following the broken bone injury accident.
At-home care if the broken bones have caused a permanent disability
Punitive damages
What if I was also negligent in causing my broken bone injuries?
Nevada has a comparative fault law, which means that if the victim was more than 50% at fault in causing their own injuries, then they will not be able to recover any compensation from the other party. If the victim was less at fault then the defendant, then the victim will be able to receive compensation from defendants.
How much do our  Las Vegas broken bone injury attorneys cost?
Our Las Vegas broken bone injury attorneys work on a contingency fee basis, which means that you pay $0 up front until we win compensation for you. Once we win a settlement or verdict in your favor, we will take a percentage from the proceeds. This percentage is discussed before we take you on as a client.
What should I do if I have suffered broken bone injuries in Las Vegas, Nevada?
Seek medical care immediately to determine what type of broken bone injuries you have suffered, and to get immediate treatment.
Gather as much evidence as possible about the scene of the accident. For example, take photos of the scene and get the contact information for any witnesses who have seen the accident.
Contact an experienced Nevada premises liability attorney immediately to hold the negligent party liable for your injuries.
Let Us Get The Compensation You Deserve
Contact our Las Vegas broken bones injury attorneys today for a free initial consultation. During this initial consultation, we will determine the best ways to file your broken bone injury claim, who the potentially liable parties are, and the compensation you could receive for your injuries. We constantly make sure that our clients are constantly kept in the loop, and are informed regarding the progress of the legal claim.
Not every Nevada law office has experienced attorneys. Our attorneys are barred in California and Nevada, and are very knowledgeable in Nevada statutes and laws. We always strive to make sure that our clients are well-represented, and receive maximum compensation for their injuries.
Our litigation attorneys are not afraid of going to trial. Our attorneys have decades of trial experience, and if parties do not agree on a settlement, we will take the at-fault party to court.