Las Vegas Wrongful Termination Attorneys
If you believe you have been wrongfully terminated, fired, or let go at work, contact our Nevada employment attorneys today to see how you could receive compensation for your injuries.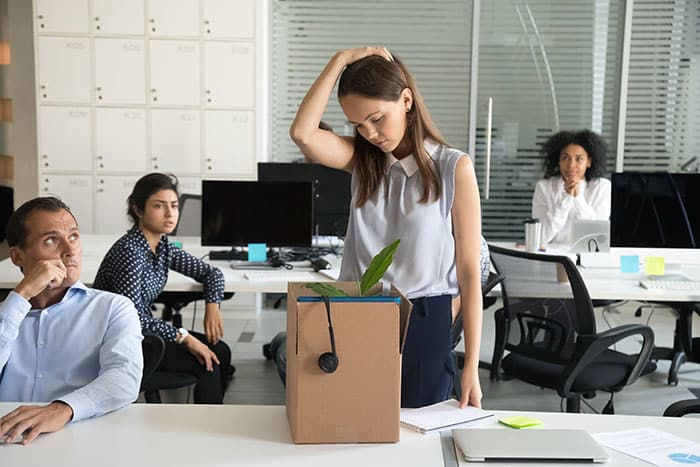 Wrongful Termination Attorneys In Las Vegas, Nevada
Our Las Vegas employment attorneys have decades of experience representing employees who have faced any type of misconduct or unfair treatment at work by their employer. Being fired, or let go from a job could be very stressful on an employee, especially if they were wrongfully terminated abruptly.
Our Nevada attorneys help employees find themselves if they have been wrongfully terminated by their employer. We stand up for employees' rights, and make sure that they receive maximum compensation for their injuries.
If you believe you have lost your job unjustly, contact our top-rated wrongful termination attorneys today to determine if your legal claim is actually wrongful termination. There are several different types of categories employer misconduct could fall under, including retaliation, harassment, wage and hour disputes, etc. It is very important that you understand the different legal claims involved in your specific circumstances.
What is wrongful termination in Nevada?
Wrongful termination refers to the letting-go or firing of an employee unlawfully. This means that if an employee is fired simply because they belong to a classified protected group, the employee has a claim against their employer for compensation. This means that an employer cannot terminate an employee based on their race, age, religion, gender, or any other protected category. However, an employer could fire an employee for any type of misconduct or poor performance the employee engages in.
Nevada Wrongful Termination Laws
Nevada is considered to be an at-will employment state. This means that an employee could quit their job, or an employer can fire their employee as they see fit. This means that an employer does not necessarily need a specific reason for firing an employee. However, there are several Federal end Nevada employment laws that provide several exceptions.
For example, if your employer fires you because you are part of a specific protected class, you may have a claim for wrongful termination.
The protected classes are stated under the Title VII of the Civil Rights Act of 1964. Under the Nevada Revised Statute 613.330, Nevada law has further protections granted by the federal government. Nevada expands the federally protected categories, and also prohibits employment discrimination based on an employee's sexual orientation, gender identity, or gender expression. Nevada has also recently passed several laws that make having a service animal also part of the protected class.
The Nevada Equal Rights Commission is a department that specifically deals with Nevada employment laws. For any wrongful termination or wrongful discrimination claims that may arise, you may have to file a clai with the Nevada Equal Rights Commission.
Can I sue for wrongful termination in Nevada?
Nevada employment laws allow you to file a lawsuit against your employer if they have wrongfully terminated you.
However, it is very important that you are able to distinguish wrongful termination compared to any other case. For example, illegal reasons include:
Firing an employee due to the employer's discriminatory motive
Violating a rule in the employment contract
Firing the employee because the employee asked about their wages
Firing an employee because the employee wanted to go on Family and Medical Leave according to the federal Family and Medical Leave Act
Firing the employee because the employee was a whistleblower
Firing the employee because the employer file the complaint against their supervisor
Contracts: if there was an employee and employer contract, and the employer failed to abide by the contract that both parties have signed, the employee would be able to hold the employer liable. Even if the contract was an oral contract, you may still have a valid claim for wrongful termination against your employer.
Bad faith discharge: in every employment contract, the employer is required to act with good faith. If the employer fails to act with good faith when firing the employee, they may be liable under a breach of good face.
What if my employer falsely accuses me?
If your employer accuses you of any false allegations, you may not always have a legal claim against them. However, if your employer made false statements about you, and you suffered some type of damage, such as a loss of a potential job, you may have a claim against your employer for defamation. Because employment law is very complex, we encourage you to get into contact with our top rated Nevada employment attorneys today.
How can our Las Vegas wrongful termination attorneys help you?
Our wrongful full termination employees have decades of experience supporting employees who have been mistreated or retaliated against. It is very important that you see a top-rated Las Vegas attorney to make sure that your rights are well-represented, the attorney as well versed in federal and Nevada employment laws, and your attorney gathers as much evidence as possible in your favor to make sure you have a strong claim for wrongful termination.
An experienced lawyer will be able to navigate through the legal process for you and prove wrongful termination. Our attorneys will gather as much evidence as possible in your favor, including employee records, employer discipline policy, employment handbook, along with interviewing any witnesses who experienced wrongful termination.
Discriminatory Firing Federal Laws
Under federal law, it is illegal for an employer to let go of an employee simply because they belong to a protected class. For example, examples of protected classes include race, color, national origin, pregnancy, sex, religion, age (over 40 years of age or older), citizenship, disability, genetic information. However, only employers who have less than 15 employees will not have to follow the employment requirements. This law only applies to employers who have more than 15 employees.
Nevada Remedies for A Wrongful Termination Claim
The compensation, also called the damages, that you can receive depends on the legal claims you are stating against your employer, along with the circumstances of the wrongful termination. Compensation in wrongful termination lawsuits are meant to put the employee in the same position they would have been in if the employer had not terminated them from the employment. Examples of damages a plaintiff could recover include:
Past lost wages as a result of being fired illegally
Pain and suffering: this refers to the emotional turmoil suffered
Out-of-pocket expenses: this refers to costs associated with looking for another job after being wrongfully terminated
Injunctive relief: this is rarely awarded; however this occurs when the court requires the employer to reinstate you to your old job.
Attorney's fees
Punitive damages: this occurs when the employer has engaged in malicious behavior
What if I have been wrongfully terminated for reasons related to COVID-19?
Because COVID-19 laws and regulations are still fairly new, the laws are constantly changing. You may have a valid claim for wrongful termination if you are fired for any of the below reasons regarding COVID-19.
You complained about unsafe working conditions, such as a lack of personal protective equipment
You refused to work because you had a belief of an immediate risk of death
Because you have a pre-existing condition that makes you vulnerable to COVID
Because you filed the claim for workers compensation for any COVID-19 injuries suffered
How much is a Las Vegas wrongful termination case worth?
 Each wrongful termination case depends on the circumstances of the incident. For example, someone who has suffered emotional trauma after being terminated and discriminated against, may be able to receive compensation for pain and suffering.
Are wrongful termination cases settled in Nevada?
Most cases in Nevada that involve wrongful termination are settled prior to making it to court. The reason for this is because taking the case to court could be very costly, and could result in thousands of dollars in expertise in filing fees.
Schedule an Appointment With Our Wrongful Termination Attorneys Today
Our wrongful termination attorneys are available 24/7, and have an office located in Las Vegas to readily help you with any questions or concerns you may have regarding your claim.
You can see our dedication and learn about it or experience at our free no risk case evaluation. During this case evaluation, you will have the possibility to meet with our attorneys and talk about your cases in detail to see if you have a possible wrongful termination claim against your Las Vegas employer. Contact us at Heidari Law Group today.